Coming up at Arno…
Be sure to read the March is Reading Month calendar for all the happenings during the week
March 7
3rd Grade class to U of M
March 8
3rd Grade class to U of M
March 9
PBIS Meeting 3:45
Wear a t-shirt with words or a phrase on it.
March 10
No events
March 11
Light Saber Day- Bring in a flashlight and your favorite book to
school.
Penny Wars
Arno School will be participating in a March is Reading Month Penny War on
Monday, March 7th-Thursday, March 10th
from
8:35-8:50 am
. Each classroom's goal is to have the most pennies in their bucket and to put silver coins/bills in other classroom buckets. The funds earned from our Penny War will go towards purchasing books at Arno School.
If you would like your child to participate, please have him/her bring their coins/bills in a ziploc bag labeled Penny War and your child's name. This will help the Arno Staff know what the money is for. Also, the ziploc bag will make it easier for your child to carry around their coins/bills while they are participating in the Penny War.
March is Reading Month Continues
We are so excited that March is finally here and the Arno staff has planned some awesome activities throughout the month which includes things like a book exchange, Bingo for Books, prizes, and a Star Wars theme!  If you are in the building this month, please take note of all the cool themed doors that all of  our classrooms worked on.  Please see below for more information on all of the exciting plans for the rest of March…
Happy Reading! 
Mrs. Sheldon returns as a guest reader to Arno…
And another special guest reader…
Jacob Yesh, son of Ms. Yesh our Kindergarten teacher, also got into the March act of guest reading to many classrooms, this particular class is Mrs. Hool.
Look for other special guest readers all through the month at Arno!
Enjoy Dr. Seuss's Green Eggs and Ham (Yummy!!)
From a Galaxy Far, Far Away
Enjoy Fun Friday Pics with a Star Wars Flare!!
Look at Our Cool Doors
The Arno staff and students also got together to do some Star Wars door decorating for March.  Check out these awesome doors- we'll show more next week
Roller Skating Party Update
Due to the district closing, the roller skating party was cancelled our last snow day.  The PTA is still currently working on a new date.  If you have paid already for the party, the PTA will address that when a data is selected.
Shrek the Musical coming soon…
It's a "big bright beautiful world" for everyone's favorite ogre in Shrek The Musical, based on the Oscar-winning DreamWorks Animation Film.
In a faraway kingdom, the green ogre Shrek finds his swamp invaded by banished fairytale misfits, runaways who've been cast off by Lord Farquaad, a tiny terror with big ambitions. When Shrek sets off with a wise-cracking donkey to confront Farquaad, he's handed a task – if he rescues feisty Princess Fiona from the Dragon-guarded tower, his swamp will be returned to him. But, a fairy tale wouldn't be complete without unexpected twists and turns along the way.
Part romance and part twisted fairy tale, Shrek is an irreverently fun show for the whole family. With abundant opportunities for imaginative sets and costumes and familiar characters that prove that beauty is in the eye of the ogre.
Performances will be on the weekend of March 18 -19 at 7pm & March 20 at 2pm.
Tickets Prices:
Adults $12
Students/Seniors $10
Family ticket $35 (2 adults and all children living in your home under 18)
Early bird prices are $2 off individual tickets through March 17th
Tickets are available at the APHS office or emailing Andrea Demorow at demorow@appublicschools.com
Shrekfest
Have breakfast with Shrek, Fiona, Donkey, Farquaad, and all the fairytale creatures!
Allen Park High School Cafeteria
Sponsored by: Bierkeller
Tickets include your show ticket to any performance!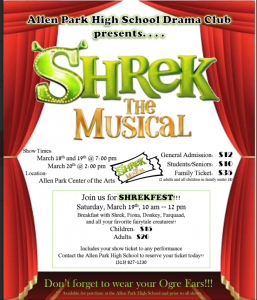 MARK YOUR CALENDAR – KINDERGARTEN ROUND UP
at Arno, Bennie and Lindemann Elementary
MONDAY, MAY 9, 2016 – 6:00 p.m.
*Children who are five years of age by September 2 thru December 1 may only be enrolled for kindergarten at the request of the parent/guardian through a signed waiver process. Waiver form is available at the Riley Education Center.
M-STEP STATE ASSESSMENT
In April, we will be starting the first window of online M-STEP testing.  This is the state test that measures academic achievement and growth in English Language Arts, Math, Science (4th grade), and Social Studies (5th grade).  Please see the schedule below as we ask for good attendance during the testing window.  You will notice that the grade levels are separated by weeks.  Students will not be testing every day during these windows.  More specific information on Bennie's test dates will be coming soon!
Students will be practicing with their teachers so they are familiar with the format, tools, and test-taking strategies when the assessment begins.
In addition, please take some time and view the practice test link (Must be on Chrome) with your child.  You can get an idea of the caliber of the test and share the information together.
http://www.michigan.gov/mde/0,4615,7-140-22709_70117-350540–,00.html