Time is Running Out- March 31, 2017 Deadline
Coming soon to Arno…
March 27
March Madness PBIS
March 28
Title I Parent Workshop
March 29
Community Interview Day at APHS
PTSA at Arno 7:00
March 30
First Grade Assembly We're Fond of Ponds
First Grade Classrooms & Kindergarten Super Cougars
March 31
March is Reading Month Movie Reward Day
Last day before spring break
Thanks once again Dr. Sturock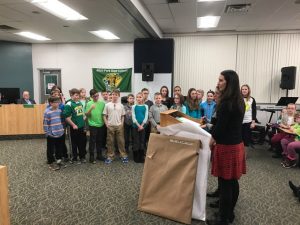 As mentioned in last week's blog, the elementary art teachers put together a wonderful project to honor Dr. Sturock.  The following students helped to create that masterpiece:
Brooklyn Combs             Isabella Garrison           Noah Kilburg
Kaylee Daniels                Isabella Maldonado       Isabella Mastin
Miles Dewberry              Kyan O'Connell               Chris Plascencia
Emily Ellis                        Steven Stewart                Tyler Tillery
Anna Watson                   Kaylee Williams              Judith Zarate
Allen Park students thank retiring school Supt. John Sturock – The News Her…

From music to memories, the tributes were plentiful March 13 as Allen Park staff and students honored school Sup…
From the PTA
Hi-Di-Ho Campers! We hope that all of the 5th Grade Students, teachers, and chaperones had a fun and memory filled adventure!
On the home front here, we just have a few reminders:
This is the LAST WEEK that Daddy Daughter RSVP's will be accepted. PLEASE! Get your spots reserved before time runs out! Make those memories! Dance that Groove on the Dance Floor! Come on out and have some one-on-one fun with your daughter(s). Remember,
Friday, March 31st
is the last day RSVP's will be accepted!
The PTA is currently accepting nominations for our Executive Board! If you would like to step up and take on a more "hands on" role in planning our schools yearly events or you just want to be a little more involved, please contact us at :
arnopta@gmail.com
or send us a private message on facebook to Arno Elementary PTA. Nominations are due BEFORE our next meeting,
Thursday, April 13th
.
This upcoming
Wednesday, March 29th
we will be hosting the PTSA Council Meeting at Arno. The meeting will take place in the Media Center at
7:30
. All are welcome to attend!
Also this
Wednesday, March 29th
, we will be holding our next restaurant fundraiser at the Southgate Buffalo Wild Wings. The event runs all day. Please bring the flyer that is sent home with your student(s) in order for Arno to receive 20% from your purchases.
Have a Great Weekend!

Penny War Results
Congratulations to Mrs. Uhring's room, they were the 2017 Penny War champions!  As the winners, they will participate in  a movie/popcorn in the building as a reward.  The total raised from Penny War was $2171.98!  That is a fantastic number- way to go Arno cougars!!  The funds earned from our Penny War will go towards purchasing books at Arno School.  Thank you for your support!!

For a good Cause…
On Monday, March 20th, Mrs. Warneck and Marie Pettit-Pokora walked to the middle school to donate 8 inches of their hair to the foundation called Children with Hair Loss. Their hair donation will be used to make wigs for children. We hope more people will join us next year and donate their hair.
From the PTA/PTSA…
Dear APPS Community,
Thank you, thank you, thank you!  We are very grateful for the wonderful Spring Fever donations from local businesses and the entire APPS community–families, friends, teachers, staff, administrators, schools, classes, clubs and organizations.  Whether you donated your time, baked goods, or an item to concessions your support is truly appreciated and enables us to support many graduating AP students with scholarships.  Please consider visiting these local businesses to show you appreciate their support!
With gratitude,
Allen Park PTA/PTSA Council
March is Reading Month
Senator Ian Conyers celebrates March is Reading month with Mrs. Shultz's class
Bennie principal Sara Metzger delights Mrs. Kalis's room with funny books

APPS Limited Schools of Choice Program for 2017-18
The Allen Park Public School District has established a successful Schools of Choice Program for the past several years and the Board of Education has approved continuation of the program for the 2017-18 school year for Kindergarten through 8th Grade.  (Requests for specific elementary schools cannot be guaranteed)
Applications are available beginning Monday, April 10 at the Riley Education Center, 9601 Vine.  Completed applications will be accepted beginningTuesday, May 2 through Monday, May 22, 2017 from 7:30 a.m. until 4:00 p.m. weekdays in the Pupil Accounting Office at the Riley Education Center.  Completed applications must be presented in person to ensure that all information is complete.  A random draw selection will be held on June 1 at 9:00 a.m. at the Riley Education Center.  The draw will determine numerical selection for acceptance of candidates.
We ask that you help us by sharing this information with friends and/or family members who may be interested in having their children become a part of the Allen Park Public Schools Family.
For more information about the Schools of Choice Program, please see the attached FAQ's, visit our website at apps.k12.mi.us or call (313) 827-2105.

Preschool Information
If you have a child who will be 3 years old by September 1st, 2017 or a 4 year old child, consider enrolling them in our Preschool Program.  Please come with your child to our Preschool Open House on Thursday, April 20th, 2017 anytime between 6:00 PM – 7:30 PM at Lindemann Elementary, 9201 Carter.  You will be able to meet our teachers, experience our classroom centers, discover theme-based teaching, and make new friends.
Registration will begin for in-district residents on Friday, April 21st, 2017 at 7:30 AM at the Riley Education Center, 14700 Moore. Out-of-district residents may begin registering Friday, April 28th, 2017 at 7:30 AM.
Our office hours for registrations are 7:30 AM – 3:45 PM, Monday through Friday.
NO REGISTRATION WILL TAKE PLACE DURING OPEN HOUSE 
For further information, contact Kristy Caleca in the Preschool Office at 313-827-2662 or caleca@appublicschools.com
MARK YOUR CALENDAR – KINDERGARTEN ROUND UP
MONDAY, MAY 8, 2017 – 6:30 p.m.
at Arno, Bennie and Lindemann Elementary
Young Fives or Kindergarten?
Young Fives Informational Meeting – March 21, 2017 – 6:30 p.m.
Location: Allen Park High School – LGI Room
Young Fives Screening Sessions – March 28-29, 2017
(Please see website under the "Schools" tab for more information)
*Children who are five years of age by September 2 thru December 1 may only be enrolled for kindergarten at the request of the parent/guardian through a signed waiver process.  Waiver form is available at the Riley Education Center.
Kindergarten Information & Registration
Kindergarten Information & Registration
Allen Park Public Schools is ready to welcome your child for Kindergarten for the 2017-18 school year!  The process is easy and we're here to help.
Please share this information with friends, neighbors and family members who may have a child ready for Kindergarten next fall.  Whether this is yourfirst childattending school, or you live in the district andalready have a child attending APPS, or already have a child attending APPS through ourSchool of Choice Program, we need you to enroll your school age/younger siblings through our registration process.
*The entry age for Kindergarten for the 2017-18 school year – child must be five years of age by September 1, 2017. 
Kindergarten enrollment takes place at the Riley Education Center, 9601 Vine, Allen Park, Monday through Friday between the hours of 7:30 a.m. –3:30 p.m.  (Office closed February 20 & 21 for Mid-Winter Break)
Please bring:
§  Birth Certificate of Child
§  Driver's License of Parent/Legal Guardian (for ID purposes)
§  Proof of residency (Warranty Deed/closing statement, tax or utility bill, homeowner's insurance policy, rental agreement)
§  Current School of Choice Families – Name/grade of student currently enrolled in Allen Park Public Schools
§  Immunization Records or Wayne County Health Department Waiver (Required for enrollment)
§  Health Information Form/Physical (Required for entrance, but not required at time of enrollment)
§  Vision Screening Record (Required for Kindergarten enrollment)
For more information, please visit our website at apps.k12.mi.us or call (313) 827-2105.

District Calendar
A reminder that the following is the Spring Break timeline for the 2016-17 school year:
SPRING BREAK 2017
April 1 thru April 9, 2017

Classes Resume

Monday, April 10
APHS & APCS Special Testing Schedule (APHS Letter Attached)
o   April 11th – Juniors & Sophomores Only (No School for Freshman & Seniors)
o   April 12 – Juniors & Freshman Only in AM (Class for all grades at 11:00 a.m.)
No School on

Friday, April 14

(Good

Friday

)
Classes Resume

Monday, April 17, 2017
While the entire 2017-18 school year calendar is not yet complete, the following are Winter Break 2017 and Spring Break 2018 timelines for those planning vacations:
WINTER BREAK 2017
Last Day of Class

Friday, December 22, 2017

December 23 thru January 7, 2018

Classes Resume

Monday, January 8, 2018
 SPRING BREAK 2018
March 30

(Good

Friday

) thru

April 8

Classes Resume

Monday, April 9, 2018