Coming soon to Arno…
May 1
Teacher
Appreciation
Week!!!!
PTA Appreciation Breakfast
Vision and Hearing K-1-3-5
May 2
4th Grade MSTEP ELA CAT
May 3
No events
May 4
4th Grade MSTEP Math CAT
TEACHER APPRECIATION LUNCH
PTA Meeting 6:45
May 5
PBIS Pizza Lunch 11:00
How You Can #ThankATeacher
Take the time to show your appreciation this week.  Teachers and staff here at Arno work so very hard to make sure that each and every child feels successful.  They spend countless hours of their own time to make each child feel appreciated and give them best experience possible.  Below are just  a few ways to thank a teacher here at Arno.
Here are a few ways you can thank a teacher:
Have your child sign and present a thank-you card to their teachers!
Share photos and your activities during the week by using the hashtag #ThankATeacher on social media!
https://www.stevespanglerscience.com/blog/2014/04/15/top-10-inexpensive-ways-show-teacher-appreciation/
The simple spoken words of "Thank you" can go a long way. Teachers are very grateful to feel that their work is valued and appreciated. Try a simple thank you next time you see your child's teacher, or better yet, write them a thank you card.
Technology makes it so easy these days to show that you are thinking about someone. As soon as you have a thought, you can simply send a quick text or email and instantly the other person can know that you are thinking of them. Try sending a quick note thanking them for a skill your child learned, or the wonderful craft your child brought home. Anything to show them that their work is valued and that you have noticed.
Who doesn't like it when someone brags about them? Anytime that you see an opportunity to boast about your child's teachers to another teacher, school staff member, or even the principal, then do it. Teachers spend all of their day in the classroom and many times no one realizes how great they are! Just a little shout out is all you need to do to make your child's teacher happy.
Teachers are always running out of classroom supplies, especially kindergarten teachers. Usually when this happens they have to use their own money to pay for them. Ask the teacher what they are running out of, and offer to send some more in. They will appreciate it more than you know.
Not all parents have the time to volunteer inside of the classroom due to their busy work and home schedule. So try volunteering outside of the classroom. Think of all the paperwork teachers have to take home, grading papers, sorting out permission slips, cutting crafts for projects, etc. Offer to help the teacher with any of these things, and he/she will be so grateful that you have given them more time to spend with their family.
From the PTA
Happy

Friday

Everyone!
We hope everyone had a great week! The weather has been so delightful it reminds me of a favorite  Christmas Song, but…no one is wishing for snow right now! BRING ON THE
SUNSHINE

!
A quick recap of some of the important events that took place this past week:
On Friday, April 21st we held our Daddy/Daughter Dance at Parkside Gardens in Southgate. What a Fabulous Night! We have heard nothing but non-stop, wonderful comments! This night would not have been so successful if not for our 2 Chairs- Stephanie Leavitt and Beth Schalf! They worked so hard for over 3 months to bring you the rockin' dance that our dads and Daughters enjoyed last Friday Night! If younsss one of these wonderful ladies around the school, please stop and tell them how much you appreciated all their hard work! A night like that would not have been possible either without our wonderful volunteers there supporting them either. Thank you to all the wonderful parent volunteers that helped to support all of their efforts! Remember, without volunteers to support our events, our events cannot be successful! If you would like to check out some pictures and videos from the night, visit our Facebook page: Arno Elementary PTA. Make sure you like our page to continue to get important updates of upcoming events as well!
The day following our Daddy/Dance was a Beautiful Day for a Race Day: the Martian Marathon! Arno had a great showing for this event and we are Super Proud of all of our Caring Cougar Run Club Members that ran in the event!
This past Wednesday, April 26th, we celebrated
Administrative Professionals Day

at Arno! I'm sure many of us showed our support to two of the hardest working women at Arno Elementary: Mrs. Cathy Anderson and Mrs. Michelle DesJardins. The PTA and school community cannot tell them or show them enough how much they're appreciated, so we showered them with a few gifts to make sure they knew. Thank you for all the love and support you provide our students with everyday!
Coming up next week we celebrate all of our staff at Arno with Staff Appreciation Week! The PTA will be showering all of our staff at Arno with treats all week including a catered staff breakfast and lunch provided by our own Kyle Kalis! A lot of thought has gone into preparing our menus these two days, but there's still a few things we need to make this week extra special for everyone! A Sign Up Genius has been created for a few of these items and coveted volunteer spots still remain! Grab a slot fast before it's too late! If you decide you also want to get in on the action of spoiling our staff, a link has been provided to an updated version of, "A Few of Our Favorite Things" document.
On

Thursday, May 4th at 6:30 pm

, we will hold our last PTA Meeting of the Year. This is an important meeting because we swear in our new PTA Executive Board Members (we even have a new Board Member). It's important to attend this next meeting not only to show your gratitude to whom served last year, but to also show support for your incoming officers. Attending meetings are also a great way to have your parent voice heard about events or issues. If we do not have membership feedback on our events, then we have limited opinions on what events are kept and what events are cut while we plan next years PTA Event Calendar. Remember: we always have free childcare, giveaways, and we try to adhere to our time frame because we understand how busy everyone is! We always enjoy meeting new people and hearing all of your ideas on how we can better serve our School Community…TOGETHER!
Enjoy your weekend and we look forward to an exciting week next week!

Daddy/Daughter Dance
What a magical night our Dads and Daughters had at the annual dance, this year at Parkside Gardens.  Family, friends, great food, and jamming on the dance floor made for an awesome Friday evening.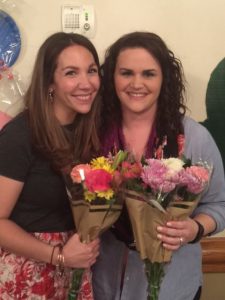 Big thank you to Beth Scalf and Stephanie Leavitt for Chairing the Daddy/Daughter Dance!
Martian Mile
It was a beautiful Saturday morning this past week when the Arno Run Club's 30 student members went out to run in the annual Martian Mile in Dearborn.  The run club participants have been working hard at building stamina to run the final mile and cross the finish line.  With the nicer weather, the students have enjoyed running outside this spring.  Congrats to all our runners for their perseverance and being a good role model of a healthy lifestyle.
5th Grade Band Concert Rocks!
Under the expert guidance of Mr. Skebo, the 5th grade band impressed everyone in the audience through an ensemble of well played songs.  Congratulations to Emily Quickel and Steven Stewart for receiving a band award for the special talents.  What a great night!
M-STEP Update
Congratulations to the 5th grade for completing  the M-Step assessment.    They have wrapped up their testing this week in social studies and have completed the set!  They did a stellar job in taking this long assessments on computer.    4th grade opens up their testing during the first week of May with English Language Arts and Math
Great Causes to support: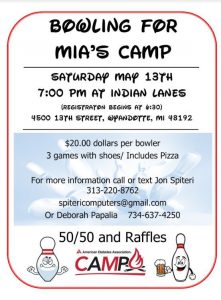 All Proceeds go to the American Diabetes Association

APPS LIMITED SCHOOLS OF CHOICE PROGRAM for 2017-18
The Allen Park Public School District has established a successful Schools of Choice Program for the past several years and the Board of Education has approved continuation of the program for the 2017-18 school year for Kindergarten through 8th Grade.  (Requests for specific elementary schools cannot be guaranteed)
Applications are available beginning Monday, April 10 at the Riley Education Center, 9601 Vine.  Completed applications will be accepted beginningTuesday, May 2 through Monday, May 22, 2017 from 7:30 a.m. until 4:00 p.m. weekdays in the Pupil Accounting Office at the Riley Education Center.  Completed applications must be presented in person to ensure that all information is complete.  A random draw selection will be held on June 1 at 9:00 a.m. at the Riley Education Center.  The draw will determine numerical selection for acceptance of candidates.
We ask that you help us by sharing this information with friends and/or family members who may be interested in having their children become a part of the Allen Park Public Schools Family.
For more information about the Schools of Choice Program, please see the attached FAQ's, visit our website at apps.k12.mi.us or call (313) 827-2105.

PRESCHOOL INFORMATION
If you have a child who will be 3 years old by September 1st, 2017 or a 4 year old child, consider enrolling them in our Preschool Program.  Please come with your child to our Preschool Open House on Thursday, April 20th, 2017 anytime between 6:00 PM – 7:30 PM at Lindemann Elementary, 9201 Carter.  You will be able to meet our teachers, experience our classroom centers, discover theme-based teaching, and make new friends.
Registration will begin for in-district residents on Friday, April 21st, 2017 at 7:30 AM at the Riley Education Center, 14700 Moore. Out-of-district residents may begin registering Friday, April 28th, 2017 at 7:30 AM.
Our office hours for registrations are 7:30 AM – 3:45 PM, Monday through Friday.
NO REGISTRATION WILL TAKE PLACE DURING OPEN HOUSE 
For further information, contact Kristy Caleca in the Preschool Office at 313-827-2662 or caleca@appublicschools.com
MARK YOUR CALENDAR – KINDERGARTEN ROUND UP
MONDAY, MAY 8, 2017 – 6:30 p.m.
at Arno, Bennie and Lindemann Elementary 
*Children who are five years of age by September 2 thru December 1 may only be enrolled for kindergarten at the request of the parent/guardian through a signed waiver process.  Waiver form is available at the Riley Education Center.
Kindergarten Information & Registration