Coming soon to Arno…
May 29
Memorial Day- No School
May 30
Higgins, Smalley 4th grade boat trip
May 31
No events
June 1
STEAM Science museum/assembly
June 2
Kindergarten to Zoo
From the PTA
Happy Memorial Day Weekend! We hope that everyone enjoys their extended weekend with Family and Friends!
In honor of Memorial Day, The PTA would like to send out a heartfelt, "Thank You" to all the servicemen and women that so selflessly serve to protect us and our freedoms!
We would also like to take this time to thank all of our dedicated volunteers! Without your help at our events, our events would not be successful and neither would our PTA! Thank You for your support!
Have a Great Weekend! Stay Dry and Warm!

Field Day Volunteers
Arno Families,
Please click on the link to volunteer for Field Day 2017 during one of the half day sessions on Monday, June 5 or Tuesday, June 6. Your support is greatly appreciated.
Thank you,
Jenny Dalton-Arno P.E.
http://www.signupgenius.com/go/30e0b4fa8ad2ea1f58-field1
Rain Date Volunteer Link:
Arno Field Day Volunteer Sign Up-RAIN DATES
Rain Date Volunteers:  Please report to the gym at your scheduled time so I can give you game materials and brief instructions before your first class arrives at your station.  Classes will be rotating through each station at 15 minute intervals.  Thank you in advance for your help and support with this event.  
Jenny Dalton-Arno P.E.
http://www.signupgenius.com/go/30e0b4fa8ad2ea1f58-arno
From the District 
Dear APPS Staff & Families,
This weekend we honor the brave men and women who gave their lives in defense of our country.  We thank our veterans, active service members, and their families who have sacrificed so much so that we can live free.  (Classes resume on

May 30

)
Also, there are some great upcoming events in our school community – so mark your calendars and enjoy!
Kiwanis Club of AP – Kids Day! 

June 3

– Arts & Crafts, Face Painting… see attached!
AP Citizens Civic Fund – Community Build Days – Get involved – we need YOU!  Come help build a new playscape

June 7-10

!  See attached for details.
AP Citizens Civic Fund – Annual Pizza, Wine & Beer Tasting – Raising funds for Parks & Historical Home in AP –

June 15

– See attached and enjoy this fun event!
Classic Cars & Custom Bike Show, Raffles, Music & More – Downtown AP –

June 28

– see attached!
Downtown AP Farmer's Market Coming Soon! – Dates & Coupon attached!
Allen Park Jaguars YOUTH FOOTBALL CAMP –

July 25

, 26 & 27 – Registration form & details attached.
Allen Park CHEER TEAM GOLF OUTING –

August 27

– Consider playing, attending the dinner or sponsoring the event in various ways! (see attached)
SAFETY TOWN
Who:  Kindergarten and 1st Grade Students in September 2016
When:  Session (A) June 20 -June 30  (9:00am to 11:30am)
Session (B) June 20-June 30 (12:30pm to 3:00pm)
Where:  Lindemann Elementary (9201 Carter, Allen Park)
A registration form will be sent home with your child the first week of April. Walk-in registration will also be available at the Allen Park Recreation Center Lobby on April 11th from 4-6 p.m.
Safety Town is an interactive safety awareness program for children from 5-6 years of age. Each day the children will be introduced to various safety issues in a fun and safe environment. The program is taught by a Police Officer and a certified teacher, with hands-on topics led by community guest speakers as well as visits from the Allen Park Police & Fire Departments. Teen volunteers from Allen Park High School lead the children through safety town every day and receive valuable training along with obtaining National Honor Society service hours. The children learn about stranger danger, water and beach as well as playground safety, fire safety, pet and bus safety, electrical and gun safety, and personal safety with an emphasis on pedestrian safety. The kids will be bicycling about a miniature town complete with streets, sidewalks, buildings, stop signs and a working traffic signal. Importance is placed on having the children memorize a cell phone number to call if they should ever become lost. We use fun songs to reinforce all of these principles and the children memorize our very own Safety Town Pledge!
Comments and questions can be directed to Officer Marcos Madrigal via email madrigal@appublicschools.com
Officer Madrigal teaches safety to our first graders
Summer Reading Ideas…
2017SummerResourcesLettertoTeachersandParents-1nuyphm
It's that time again…
We are looking forward to another wonderful 5th grade graduation ceremony on June 14th at 9:00.  Following the ceremony there will be "picnic" for all the students with lots of yummy treats.  Please contact the office with any questions.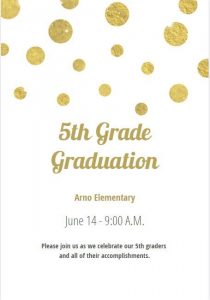 FIDGET TOYS
Many of our classrooms have fidget "toys" available for students who need them to maintain focus on work while expending energy in a quiet, personal way.  However, we have seen many fidget toys coming to school with students from home.  These fidget toys, designed to improve attention, are actually becoming a major distraction for our students at all levels.  Student attention is actually ON the fidget toys, rather than the lesson.  For this reason, we are asking that all fidget toys be left at home from this point forward.  If your child needs a fidget to do his or her best work at school, it will be provided by the teacher.  Thank you in advance for your support and understanding.

M-STEP Is Complete 
3rd grade wrapped up  their testing on Monday and now the whole building is complete this year!  Our Arno students did a tremendous job despite the challenges of testing- we are so very proud of their effort!  Initial scores for the M-STEP will not be available until the fall, we will certainly inform you when the individual reports come out.
Color Run 2017 Info and Signup Genius for volunteers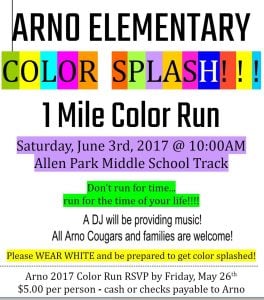 The Color Run/Walk is an end of the year event for Arno families geared towards being healthy and having fun.  It will be held at the Middle School Track on Saturday, June 3rd starting at 10:00 am.  We are seeking volunteers for this event.  Volunteers will be expected to be there 30 minutes prior to the event at 9:30 am.  If you are interested in volunteering, please sign up and we will see you Saturday morning.  Current Arno students may not be volunteers.
Children must be accompanied by an adult and families will be running in heats that are predetermined.  Heat times will be communicated to families the week before the run.  Participants should come to the event wearing white and Eco-friendly colored corn starch will be thrown on runners/walkers as they move around the track.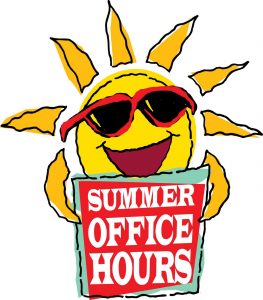 New District Summer Hours
APPS Summer Hours
Monday

thru

Thursday
7:00 a.m. – 4:00 pm

.
Closed Fridays*
(

July 1 thru August 14

)
*Summer Kids Camp at Riley Education Center will be held on Fridays
All District Offices and Programs closed on

July 3rd & 4th

APPS LIMITED SCHOOLS OF CHOICE PROGRAM for 2017-18
The Allen Park Public School District has established a successful Schools of Choice Program for the past several years and the Board of Education has approved continuation of the program for the 2017-18 school year for Kindergarten through 8th Grade.  (Requests for specific elementary schools cannot be guaranteed)
Applications are available beginning Monday, April 10 at the Riley Education Center, 9601 Vine.  Completed applications will be accepted beginningTuesday, May 2 through Monday, May 22, 2017 from 7:30 a.m. until 4:00 p.m. weekdays in the Pupil Accounting Office at the Riley Education Center.  Completed applications must be presented in person to ensure that all information is complete.  A random draw selection will be held on June 1 at 9:00 a.m. at the Riley Education Center.  The draw will determine numerical selection for acceptance of candidates.
We ask that you help us by sharing this information with friends and/or family members who may be interested in having their children become a part of the Allen Park Public Schools Family.
For more information about the Schools of Choice Program, please see the attached FAQ's, visit our website at apps.k12.mi.us or call (313) 827-2105.

PRESCHOOL INFORMATION
If you have a child who will be 3 years old by September 1st, 2017 or a 4 year old child, consider enrolling them in our Preschool Program.
Registration will begin for in-district residents on Friday, April 21st, 2017 at 7:30 AM at the Riley Education Center, 14700 Moore. Out-of-district residents may begin registering Friday, April 28th, 2017 at 7:30 AM.
Our office hours for registrations are 7:30 AM – 3:45 PM, Monday through Friday.
NO REGISTRATION WILL TAKE PLACE DURING OPEN HOUSE 
For further information, contact Kristy Caleca in the Preschool Office at 313-827-2662 or caleca@appublicschools.com