Welcome Back to the 2018-19 School Year!!
On behalf of the entire Arno staff, I would like to welcome all of our wonderful families back to another great school year!  I would also like to extend a warm welcome to those families who are new to our building this year, a truly remarkable year awaits you.  We are very excited to get started with much anticipation of Cougar success.  This year, students will continue to work on our new reading series- Journeys, which should give our kids in-depth language arts lessons to enhance the literacy experience.  We will also be in our third year of Math in Focus, also known as Singapore math, as well get many new challenges in writing, science, and social studies.
We are also continue to modify our multi-tiered approach to ensuring the core program for all, with interventions and enrichment where needed.  From our PTA Fun Run, to our traditional Olympics- this promises to be a banner year at Arno!
CLASS ASSIGNMENT INFO
Student schedules will be available August 31, 2018 at 4:00 p.m.

WELCOME TO YOUR 2018/19 SCHOOL YEAR

We are pleased to announce a new convenience for our elementary families this school year – teacher/classroom assignments will be available through your Parent Connection account any time after 4:00 p.m. on Friday, August 31, 2018, rather than class lists posted in buildings as in past years.  Parents/guardians will now be able to access their child's teacher assignment from home, work or while on vacation! 

 Please email questions and Pin/Password requests to studentconnect@appublicschools.com

(Make sure to check your spam folder if you do not receive the email for Parent Portal issues)

                 Notice:  There is no access to Parent Portal for Pre-school students

Student information is available via the MISTAR Parent Portal.  This online tool is provided as a benefit to Parents (and other identified Primary Contacts) in the Allen Park Public School District.  Our District has a committment to excellence and knows that a strong collaborative approach between home and school equals greater success for our students . If you do not know  

Here is a short video explaining how to use Parent Portal.

 Click link to view video
Coming soon to Arno…
9/4 
Welcome Back- First Day of School A.M. ONLY
Dismissal 11:30
9/5
No events
9/6
PBIS Stations
First PTA Meeting 6:30
9/7
No events
9/10
Mr. Peace Assembly
9/11
No events
9/12
No events
9/13
Meet the Teacher 6:30
Title 1 Meeting for parents 6:00
9/14
No events
Arno Vision
Arno Elementary will provide a system of support to empower
and inspire students to become collaborative learners
that strive for academic excellence

Staff Changes for 2018-2019
It is my pleasure to welcome Megan Johnson and Sara Bleau to Arno Elementary.  Sara will be filling our ECP preschool program and Megan will be joining our dynamic kindergarten team this year.  These teachers come to us with multiple experiences and bring with them the skills necessary to provide Arno students with an excellent education.  Please read  and  biography below for more on our new additions.
Also in a new role this year- Kim Dowd, former Parapro working with at-risk students at Arno, is now our new student advocate, joining Cathy Anderson in the office.  we are very excited to welcome Kim to this new role at Arno and congratulate her for her new position. You can also find out a little more about Kim below.
Mrs. Sara Bleau, ECP Classroom
Hello, my name is Sara Bleau, I am the new ECP teacher this year at Arno. I recently graduated from Baker College with a bachelor's degree in elementary education. In addition to being a certified K-5 teacher, I have an early childhood special education endorsement. Prior to my student teaching at Arno I was a math interventionist for a neighboring school district. When I am not teaching I am most likely enjoying the great outdoors with my family. I am so thankful for the opportunity to be part of the Arno community! I am looking forward to building lasting relationships with my students and their families throughout the year!
Ms. Megan Johnson, Kindergarten
Hello! My name is Ms. Johnson, and this is my first year teaching at Arno Elementary.I graduated from Eastern Michigan University with a Bachelor's Degree in Education this past spring. I have been substitute teaching, volunteering, and coaching with Allen Park Schools for the past 7 years.  I enjoy helping students become successful learners and feel proud of their accomplishments.  I am excited to teach in the elementary school that I went to as a child.
Mrs. Kim Dowd, Student Advocate
Hi, my name is Kim Dowd and I've worked with children for several years throughout my Allen Park Schools career.  I have been a one on one aide to several different special needs children, had experience working in the PPI classroom as a parapro.  In 2012 I was became part of the Arno family working as an instructional aide. I've gotten to know and love all of the teachers/staff as well as the children and their families.  I'm not completely new to the office as I've enjoyed filling in when needed and look forward to seeing everyone this fall!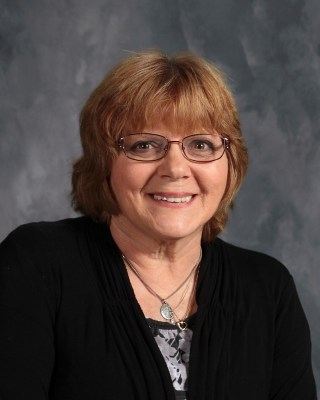 Thank you Cathy Gorski- We will miss you! 
Cathy Gorski, although not retiring will be sorely missed here at Arno as Cathy takes on a new role as Reading Coach over at Lindemann Elementary.  Cathy has served Arno with distinction in her Title I program serving our at-risk youth.  Her efforts with our kids has made such a tremendous impact on their lives, and our building and we are proud to call her an Arno cougar.  We will miss you Mrs. Gorski- Good luck in your new role!
Thank you Mrs. Desjardins- We will miss you!
Michelle Desjardins, a fixture at Arno for over three decades, made her decision to retire this summer.  Michelle's presence in our office was a comfort to our many students who needed assistance, a band-aid, or just needed someone to talk to.  She was such an asset to our whole staff, stepping in where needed, helping out a co-worker, or going out of her way to make someone's day.  Her relationships with our staff, students, and parents will be missed!  Congratulations Mrs. Desjardins., we will always be proud to call you a Cougar forever!
Thank you PTA!
If you have not had the chance yet, please stroll by and check out the playground structure that was purchased by the PTA from all of our donating families!  What a great way to show our kids just how generous our Arno parents are in making this possible!  This was mainly funded by the Arno Fun Run, so please be on the lookout for the new information for this year's Sept. 28 Fun Run event.  Your generosity truly counts!
From the PTA
Welcome Back! Hope you're ready for a fun filled year! The PTA would like to welcome back all of the Arno Caring Cougars!
Just as a reminder, student teacher assignments will be emailed and not posted at the school this year. You can also view it through the Parent Portal on the Allen Park Schools website or the Mobile app.
Volunteers are still needed for our Welcome Back event on 

August 30

th

! Don't forget to grab your Spirit wear  while your here! We sell Spirit wear at all of Arno's events!  And If you are interested in volunteering for this event, please let one of our wonderful PTA board members know! You can let us know through email or Facebook!
Don't forget about meet the teacher night on 

September 13th

. Come meet Arno's fantastic teachers!!!! 
The Fun Run Event is coming…….

September 28

th

! We have chosen a Zoo theme! We are in need of volunteers for this event! Make sure to invite your friends and family to join the kids during this wonderful event! There will be an awesome DJ and sweet prizes! Come one come all and have some fun with our Cougars! More details about this event will be available soon.
Our first PTA meeting will be 

Thursday, September 6th at 6:30 pm

 in the Arno cafeteria, bring your friends! Join a great group of parents and as a bonus…..there's FREE BABYSITTING for school aged children!
We are looking forward to a great year!
Stacey Sisson
Reminder for all of our Arno families that we collect Box Tops for education in the main office.  Simply send them in with your child and their teacher will make sure they get down to the collection box.

Early Dismissal Time Change
Please note that on half days this school year, the early dismissal time is now 11:30 a.m.- (Was 11:40).
IMPORTANT INFORMATION
FOR THE 2018-19 SCHOOL YEAR
UPDATE MiSTAR PARENT CONNECTION – CONTACT INFORMATION
As our district continues to build towards more and more digital communications in the future, it is important that you take a moment to update your contact information in MiStar.  Under the "My Information" tab at the top right, you will now be able to update:
Email address for parents/guardians
Phone contacts for parents/guardians
Primary phone number – "Under Student Demographics"
o   This is the phone number used for automated phone notifications. 
o   If you wish to receive text messages from the district, please select "SMS Cellular" as the "Telephone Type" for your primary phone number or other parent/guardian phone contacts.
Emergency Contact Updates (Authorizing release of your student)
Info on Parent Connect from the district website:
You must have a PIN and Password to log into ParentConnection. ParentConnection is a web program that allows parents to view information about their child.
To receive a PIN and passwords for ParentConnection contact your child's school.
If you have more than one account to view your children, please contact the school office.
Make sure to insert your email after logging into ParentConnection.  Inserting your email will allow you to access the automated password reminder system.
Arno Staff Roster 2018-19
| | |
| --- | --- |
| Young fives | Jeanine Haskin |
| Kindergarten |  Megan Johnson |
| Kindergarten | Nickie Stanley |
| Kindergarten | Cristina DiCarlo |
| First Grade | Julie Martinchick |
| First Grade | Barb Pushman |
| First Grade | Dawn Watson |
| Second Grade | Nicole Amonette |
| Second Grade | Alexandra Cervantes |
| Second Grade | Megan Schultz |
| Third Grade | Beth Wesley |
| Third Grade | Renee Guyot |
| Third Grade | Rachel Warneck |
| Fourth Grade | Sarah Kalis |
| Fourth Grade | Lisa Smalley |
| Fourth Grade | Brian Trionfi |
| Fifth Grade | Todd Creutz |
| Fifth Grade | Melissa Hool |
| Fifth Grade | Erin Higgins |
| Cross Categorical Classroom | Katie Jensen |
| ECP Program | Sara Bleau |
| Life Skills | Stella Boyer |
| Media Lit Arno/Bennie | Colleen Byrne |
| Media Tech Arno/Bennie | Carrie Solak |
| Art Arno/Bennie | Elisabeth Cunningham |
| Art Arno/Lindemann | Rachel Trapani |
| Speech | Andrea Alvarez |
| Vocal Music | Tracy Hoffman |
| Instrumental/Vocal  Music | Jeff Skebo |
| Physical Education Arno/Bennie | Jenny Dalton |
| Social Work Arno/Bennie | Sandy Bennett |
| Resource Room | Michele Sbonek |
| Reading Coach/Title I | Barb Chuby |

Principal Steve Zielinski: @szArno
3rd Grade Reading Law
The legislature passed what is known as the Third Grade Reading Law last school year.  This law has many moving parts, see below for more info:
K-3 parents have to be notified if their child has a reading deficiency starting this year
Any student below grade level on reading (deficient) must have a school and home reading plan for success
By 2019-20 school year, any 3rd grade student one year or more below grade level as measured by a state assessment will be retained.  This year's second graders will be the first group in third grade to be affected.
There are a number of ways to exempt the student from retention ie. parent waiver, shows better results on another local assessment, etc.
As a result of this law, we now are required to issue reading plans (IRIP) that shares information on testing, a plan, and what parents can do at home for K-3 students.  These are issued out in the fall, winter, and the spring for those students who are below grade level as identified in our standardized assessment, NWEA. If your child is to receive one in the fall, you will be notified at the first parent-teacher conference.   As always, we will provide quality instruction and interventions for all of our Arno students.  If you would like more information, please visit: http://detroit.cbslocal.com/2016/10/08/third-grade-reading-retention-bill-now-law-what-parents-need-to-know/
Line-up Procedures…
Line up procedures will remain the same as last year with indoor lineup with the exception of the first day of school– students will line up outside the grade level doors.   Indoor lineup will start on the second day of school.
The first day of school, line-up will be OUTSIDE their assigned door.
Indoor line-up starts September 5th
Outside doors are closed and will be opened at 8:20 daily for students to enter for indoor lineup, not before that time, however
Breakfast doors still open at 8:05
Students should still report to their assigned outside door to enter the building
Parents will not permitted to enter with students/stand in the halls- normal protocol to sign in with the main office does not change
Students will enter the classroom at the 8:30 bell after waiting in the hall
Door Assignments
5 Ways to Have a Great First Day Back to School
You've read other lists, but here's the REAL advice from ACTUAL teachers on how to prepare yourself and your child for a new school year:    
Encourage a work/play balance. Most parents don't know that teachers actually want our students to have a comfortable work/play balance at home; meaning, we don't want your child's entire night devoted solely to reading and homework.  GASP!  No, it's the TRUTH.  Run outside, join a club, play sports, try a new board game, help cook in the kitchen, make a craft, design, build, create – these activities actually help facilitate learning so leave time for them….PLEASE!
How is your child going home?  We will (frantically) ask your child 720283465 times during the 1st day of school, 'how are you getting home?' This is by far the most challenging part of the first day; making sure each brand new face gets to their designated place (I'm officially coining that phrase).  After care, bus (including number or color and destination), bus after care, walker, car, or bike rider?  Know your plan and keep it consistent for week 1. Make sure your child feels confident that they know exactly how they're getting home, whose getting them there, whose going with them (siblings or friends), and what will change if we're involved in a rainy day dismissal situation.
Start a NEW back-to-school tradition.  Make the first day of school more than memorable for your family.  Go out for ice cream, have a picnic at your favorite park, take a walk on the beach, or enjoy dinner out.  THIS is the beginning of a new year – set goals, make plans, and enjoy the newness of the fresh new year!
Ask TARGETED questions.  Instead of "How was your day?" try these questions that are more likely to solicit better conversation about your child's school day.  "What skill did you learn in math?"  "What books did you read/listen to?"  "What did you work on in fine arts?"  "Who did you play with at recess?"  Please I beg of you…never, EVER, under any circumstances, email, text, or utter the following words to your child's teacher…."he said that you guys did nothing today".
Set technology boundaries.  Implement a time limit (1-2 hours a day) and encourage breaks (every 30 minutes).  Establish rules for who your child can message or chat with and encourage the use of the golden rule while using social media or chatting sites.  You can delete, but you never fully erase the words you type to someone.  Secure your child's access by blocking inappropriate sites and using Google's safe search.  Your school district's website will have teacher approved websites that are designed to reinforce skills taught in the classroom.

Traffic Pattern
Parking/Drop-off
As we all need to get our children to school, safety is always the primary concern.    We will do our best to help ensure an orderly drop-off/pick-up daily, but we need your help in making that happen.
** No child should run across the street to get into a car.
**Help our traffic issues around school by parking a block or so away and WALKING your child before and after school.
**School traffic flow MUST go clockwise around the school. Make sure that your passenger door is ALWAYS closest to the curb.
BE SMART! BE PATIENT! BE CARING! BE KIND!!! BE RESPONSIBLE!!

2018-19 School Information
Office is open daily:           7:30-4:00
School day for students:  8:30-3:30
Latch key hours:                  7:00-8:30
3:30-6:00
Student arrival time:          8:20
Half-Day dismissal              11:30
*If your student participates in the breakfast program, breakfast starts serving at 8:10.
*If your child is not picked up consistently 20 minutes past dismissal, you will be required to enroll in latchkey services.  

Student Attendance
Please read the attitude article on the importance of student attendance, which is mandatory by the laws of the State of Michigan.  Please be aware that we are required to follow up with families either verbally, in writing, or both when absences reach the 10 full day mark.
Breakfast and Lunch Program
Parents can setup a free account online at https://www.mypaymentsplus.com/ . You will need their child's student id number to setup the account and can get the id number from parent connection,  the school office or the FS office. To view your child's meal account information and/or make payments online at https://www.mypaymentsplus.com/ (link is on our website).  There is a small transaction fee charged to make online payments.  The lunch program will continue to accept cash or check as we always have.
Parent Information:
Parent website: www.mypaymentsplus.com
Parent support line for questions: 1-877-237-0946
MyPaymentsPlus Free Mobile App available for download on IPhones, Androids and Tablets!!
**If you believe that you may qualify for free or reduced lunch, we ask that you please submit the application that went home in September or pick up a new one from the office as soon as possible. Our total count for free/reduced lunch helps the district receive federal funds to run our Title 1 program and help our at-risk students.
If you are not sure about the guidelines or have
any other questions, please call the office @827-1050
Breakfast and Lunch Flyer w color September 2018 pdf-14zrlg3
MyPaymentsPlus Acct Setup-Meals Flyer_2016 (1)-2bzdpkn
Meet the Teacher
Be sure to mark Sept. 13 on your calendar for our Meet the Teacher night.   This is a wonderful opportunity to come to Arno and meet your child's teacher,  hear about grade level curriculum, classroom policies, and important classroom information.
The evening starts at 6:30 and runs until 7:30 p.m.in your child's classroom.
Please call 313-827-1050 if you have any questions.
See you there!
Put On Your Smile…
Please mark your calendars for September 27 for picture day, retakes will be on Nov. 15.  Information will be coming home soon.
Although we cherish every birthday here at Arno, we wanted to remind everyone that birthday food treats are not allowed and will not be brought down to the classroom.  Pencils, bookmarks, etc are acceptable alternatives.  Thank you for your support!!