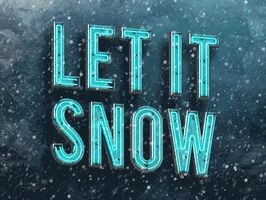 Coming soon to Arno…
Jan 21
MLK Observance- No school for students
Teacher PD
Jan 22
Metro Parks Cervantes
Jan 23
No events
Jan 24
Arno Olympics 6:00
Jan 25
No events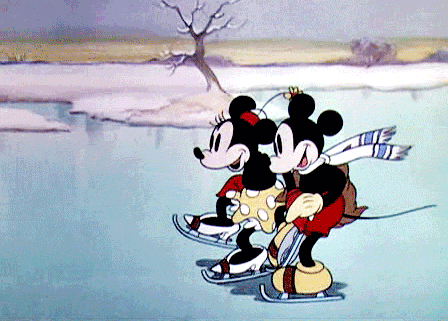 Jan 28
No events
Jan 29
No events
Jan 30
No events
Jan 31
PTA 6:30
Feb 1
PBIS reward

Arno Vision
Arno Elementary will provide a system of support to empower
and inspire students to become collaborative learners
that strive for academic excellence-

Parent Surveys
It's that time of year already in our school improvement planning where we need to send out surveys to our Arno stakeholders.  You will have the opportunity to take a brief survey from the State of Michigan rating some of your experiences here at Arno.  The survey will be available  Jan 18 to Feb. 7.  We will be providing the link to it via email blast on that day, as well as posting it in the blog below.  If you are unable to access via computer, we will also have a computer set up in the office if you wish to take it there.  Giving us good feedback helps us plan better to meet the needs of every Cougar stakeholder.  In addition, students and staff also take a similar survey during the school day.
All of the feedback you provide is then summarized and becomes part of our school improvement plan for the 2018-19 school year.  Thank you very much, please click on the link to start the survey: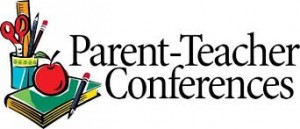 Parent/Teacher Conferences
Winter conferences are coming up quick on February 6 and 7 from 5:00-7:30 each night.  This conference is slightly different in that not every family generally attends, but is still open as an option for all who would like a conference with the teacher.  Some fast facts:
1. If your classroom teacher is requesting a conference with you, you will receive a notice.
2. If you did not receive a notice from the teacher, you may still request a conference with the teacher OR decide that you don't feel a conference is necessary at this time.
3. All classroom links will come from the teacher and be live on this Friday's  blog release to sign up for a time on signupgenius for those who need to attend conferences.
4. Report Cards go home on March 15
**Once again, please do not sign up for a slot on signupgenius if a conference is not needed at this point.
Conference Links:
Arno Olympics
From the PTA
Welcome Back! We hope you all had a safe and Happy Holiday!
Way to go
Arno Cougars

we had the most students enter the Reflections contest in the AP District. Stay tuned to see if any of the Arno students will move on to the state wide Reflections.
We are looking for support for the APHS Food Pantry again this year. A box will be placed in our main office to collect items from Monday January 14th through Friday January 25th. Suggested items are cereal, cereal breakfast bars, pop tarts, and any canned food items such as vegetables, fruits, and tuna. Pasta and pasta sauce, macaroni and cheese, ramen noodles, various types of snacks, and any quick fix meal or food item. We are also looking for personal hygiene items to be donated as well as socks. A PTA member will be transporting our boxes to the HS Pantry. Thank you again for your continuous support for our Allen Park Families.
 Your Arno PTA presents Mother Son Bowling night on January 18, 2019 from 7-9:30 pm at Skore Lanes in Taylor.     
REMINDER! Our PTA meeting for January will take place on the 31st at 6:30 p.m.! We cannot wait to see all your smiling faces!

December Safeties of the Month
Emma Brown
Ben Klos
Grace Nation
They received a certificate at our last 
Safety

 Meeting, and their picture will be displayed on the board by the office.
From the District
Dear APPS Families:
Also, please feel free to submit a meal benefit application to see if your child(ren) qualify for free/reduced meals.  Paper applications can be found at your school office or they can be printed off the website – allenparkschools.com – Food Services tab.  If you have any questions you can also call the Food Services Office at 313-827-2185.
Thank you.
Barbara Zdrodowski
Administrative Assistant to
Michael H. Darga, Superintendent
Allen Park Public Schools

Yoga has started…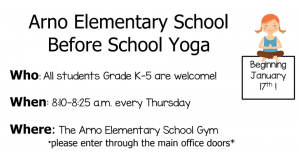 Board of Education Announcement – Congrats!
 Congratulations to Mr. Michael J. Klein, Mr. Robert Loyd, Mrs. Jeannette MacDonald and Mrs. Julie Sheppard (incumbent), officially becoming members of the Allen Park Board of Education after taking the Oath of Office last evening.
Also on January 14, 2019 the Allen Park Board of Education conducted its annual organizational meeting, selecting the following as 2019 Board Officers:
Mr. Gordon Miller – President
Mr. Michael J. Klein – Vice President of Operations
Mr. Robert Loyd – Vice President of Human Resources
Mrs. Jeannette MacDonald – Vice President of Teaching & Learning
Mr. Rick Moynihan – Vice President of Extra Curricular Issues
Mrs. Julie Sheppard – Secretary
Dr. Jennifer Warren – Treasurer
The insight, concern for the well-being of all students, and professional experiences of these civic-minded individuals will contribute significantly to the Allen Park Public Schools.  We are grateful for their commitment to serve the school community and wish everyone the best of luck as we strive to make this year the very best for children throughout the District.
Barbara Zdrodowski
Administrative Assistant to
Michael H. Darga, Superintendent
You are cordially invited to participate in a unique program presented by the Allen Park High School Drama Club that will pair books, one of our favorite Disney Princesses and an opportunity to create a deeper love for reading in elementary aged students.
Parent Requirements
: If you choose for your child to participate, you will be asked to help them in two ways.  The first is for them to keep a reading log showing at least 20 minutes of reading per day for the length of the program.  The second is to bring them on four separate Saturdays to the Allen Park Center for the Arts for a read-aloud with Ariel and her friends from The Little Mermaid.  At these events, students who bring their reading log will be able to choose a free, new book to take home.
Student Requirements
: Students will keep a reading log showing at least 20 minutes of reading every night beginning January 26.  Join us on four Saturday mornings sit with Ariel and her friends as they read a story.  After Storytime, students will get their logs stamped and be invited to choose a book to take home, free of charge (total of four free books per participating child).  Students who complete the program will be given a free ticket to our stage production of Disney's The Little Mermaid on their choice of performance dates: March 15,16,17, 22, 23, 2019.
Storytime dates are:
January 26, 2019 @11:00 a.m.
February 9, 2019 @11:00 a.m.
February 23, 2019 @11:00 a.m.
March 9, 2019 @11:00 a.m.
Please fill out a reservation form to reserve your child's spot in the fantastic program!
Should you have any questions, please don't hesitate to call Kelly Klug at 734-341-0160 or email kelly.klug@lpps.info
Congratulations to Mrs. Warneck
The MEEMIC foundation stopped by Arno this past week and presented Mrs. Warneck with a nice check for a grant that she applied for.  Due to this grant, her class will get to enjoy a computer program that with help with academics.

Congratulations to all of our PTA Reflections Contest Winners!

Thunderbowl Bowling
If you are interested in an after school bowling club for your child, please take a look at the flyer below.
Thunderbowl Visits Arno
Mrs. Dalton recently had some people from Thunderbowl lanes come out and help teach our Cougars some bowling skills.