Cougar Friends
Coming soon to Arno…
Teacher

Appreciation

Week Begins!!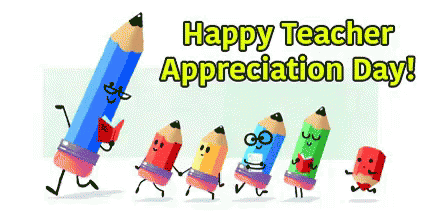 May 6
Kindergarten Roundup 6:30
May 7
No events
May 8
Band Concert 6:30
May 9
Teacher Appreciation Luncheon- New Lunchtimes 11:00-12:00 K-5
May 10
No events
May 13
Jazz Band 10:30
May 14
Arno Spring Concert Grades 4/5 6:30
May 15
No events
May 16
6th Orientation for students @Arno 9:00
May 17
No events
***Reminder: Please be sure that you child does not arrive at school until 8:20-8:30 daily (Unless the receive breakfast) Thank you
Last Day of Yoga is May 30
Arno Vision
Arno Elementary will provide a system of support to empower
and inspire students to become collaborative learners
that strive for academic excellence-
TEACHER REQUEST PROCEDURE
As we close one school year and begin to plan for the next, student placement is one of our primary considerations.  Our school team of teachers, administrator and social worker spend many hours working together to form classrooms for next year.  We strive to balance classrooms with a blend of students based on academic strengths and needs, social and emotional supports, and the unique personalities of each child.
If you have any special concerns about your child's placement for next school year, please submit a written explanation of the concern.  For example, "my son is very active and needs to be placed in a classroom where he will have opportunities to move around" or "my daughter struggles with reading and needs a teacher with a strong background in reading".
We do not/cannot accept any requests for a specific teacher.  Letters requesting a specific teacher will be not be considered.  The one exception is a request for your child to not be placed in a specific classroom based on previous first-hand experience you've had with a teacher.  And, that parent concern / issue should be documented in the office.  All such letters are due to the office no later than Friday, May 17, 2019.
This is the same procedure that has been used in previous years and is the same procedure used at Lindemann and Bennie.  If you have any questions or concerns about this process, please feel free to contact my office.
Steve Zielinski, Principal
From the PTA
We still need help with breakfast Mon the 6th 7-8:30. Even if you can't help before school please come a little early to drop your kids off & help tear down. We must clean up quickly when the bell rings so the gym can be used for classes.
We are in need of more donations of individual wrapped snacks for staff lounge treats. Even if you can just pick up one box of 12 or a few boxes, any sort of individual wrapped snack is great. You can drop them off to office any day marked "Staff Appreciation". *please remember no nuts*
Agendas for appreciation week went into all staff mailboxes today (Thursday). Set up will begin at 3:30 tomorrow, Friday so we have less work to do way early Mon am. Jay Rays BBQ is ready to rock the lunch Thursday.
Parents please remember this is a week for all of us to encourage our kids to love & honor the staff. Of course they love gifts but sending in a gift doesn't have to be limited to monetary or purchasing something. It can be as simple as having your child write a Thank-you note to their teacher, lunch aid, office gal, favorite specials teacher, etc.
Thanks for all your help and many donations so far! Together it's sure to be a great week for all the staff!

6th Grade Orientation
Dear Current APPS 5th Grade Families,
We are excited to meet with you on Tuesday, May 21, 6:30 pm, at Allen Park Middle School for our 6th Grade Parent Orientation.
The evening is designed to help give all of our 5th grade parents a good understanding of our philosophy, academic expectations and curriculum, daily life at APMS, and our many extra-curricular opportunities.
The APMS main doors (by the flagpole) will open at 6:00 pm–come in and head toward the south side of the building to the cafeteria, where we will start the program at 6:30 pm.  The program will take just over one hour.
We highly encourage you to attend this important night!  We greatly look forward to meeting with you on May 21, and welcoming you to APMS!
This evening is a Parents Only event, we have a special orientation for all of our incoming 6th graders on WEDNESDAY, AUGUST 28th from 8–11 AM.  On this day, 6th graders will meet their 8th GRADE WEB LEADERS, pick-up their schedules and locker assignments, and tour the school. The school is open the rest of the day until 4 pm, and again the remainder of the week for students to set up and practice their lockers, walk their daily schedules, and get a good feel for the building, and even meet their Principals, Teachers, and Staff.
Thank you!
4th Grade M-STEP is Underway
Grade 3 ELA M-STEP Kickoff
M-STEP Coming Up
Grade 4 
Math

  M & T
Grade 3 
ELA

(Con't) M
Grade 3 
Math

W & Th

Teacher Appreciation

Week Begins Next Week
Please read below if you would like to explore some ways you can thanks your child's teacher.
Creative Ways to Thank Your Child's Teacher
With summer near, it's natural to reflect on all the amazing things your child's teacher did over the year. So how do you actually show how much that means to you? Check out this list of what teachers really want!
"I absolutely love my job as a second grade teacher. My students make each day wonderful in their own little ways," says Aimee Brenn of Boston. "But when parents show appreciation for my work and dedication, I feel rewarded in ways that my words cannot truly express. It's those little forms of validation that make teaching such a remarkable profession."
Beyond a simple, heartfelt "thank you," these ideas can help your child's teacher feel the love.
Cards and Letters
The teachers we talked to said personalized letters and cards were by far the most rewarding ways to be thanked. But forget the generic store-bought cards — take time to write something personal. Even better: Get your child involved. You both can write what you liked about the teacher and his or her class.
"A simple note can make me melt!" says Lori Slates Vance, a second grade teacher in Macdonald, Pennsylvania. "My most treasured gift was from a student and her mom. The student wrote me a letter that told me how she liked being in my class. Mom wrote about how her daughter had improved and grown that year."
"If the cards are personalized, it would be something to hold onto forever," agrees teacher Katherine Mottola, of Marshfield, Massachusetts. "A child once wrote 'I love when Mrs. Mottola reads us silly stories.' Another child wrote 'I like Mrs. Mottola because she smiles at me.' So simple but so touching. It's the little things that make the job so fulfilling."
Group Gifts
If you want to make a grand gesture, consider going in on something with the rest of the students' parents — and it doesn't have to cost a thing.
"One year, my class's room mother contacted all the other parents and sent out papers for each of my students to complete, telling me about their favorite experiences throughout the year and what it meant to have me as their teacher," says Brenn. "The papers were then compiled and laminated in a book for me, with each student's picture and writing. I will always cherish the time and effort that went in to creating that special keepsake."
Volunteering
Grand gestures during holidays and special dates are fine, but the teachers we spoke with emphasized that they like to feel appreciated year-round — and one of the biggest ways is by getting involved with class activities.
"Take a day off work and devote your time," suggests Brenn. "Be a mystery reader; help with a craft or science project; be a chaperone on a field trip."
Classroom Supplies
Can't take time off work? Donate some supplies to the classroom; many teachers end up purchasing some of these out of their own pockets, so helping them stock up on tissues and crayons — or a bigger ticket item, like the electric pencil sharpener that Brenn was gifted one year by some class parents — can be a huge relief.
Helping with supplies helps teachers save some of their own money, of course, but it also makes them feel appreciated, knowing parents and students have really listened and paid attention to their needs and wants.
A Little Pampering
Michelle Holmes, a preschool and pre-kindergarten teacher in Plano, Texas, and her colleagues once each received chair massages as gifts — and she loved hers. Before Brenn's wedding, her class's parents threw her a surprise bridal shower. Teachers work hard, and to show them you know that, consider something that makes them feel special or pampered.
Sounds pricey? It doesn't have to be. For many teachers, a hot lunch might be all it takes to feel like they're indulging. "Our lunch block is never long enough to leave to go get food, and it's usually filled with tasks like making copies, using the restroom, and returning emails," says Karen Mensing, a first and second grade teacher in Phoenix. "Contact the teacher in advance to check for allergies and preferences, and swoop in at lunchtime with a burger, salad, or slice of pizza and beverage. It's a treat every teacher I know would relish!"
Gift Cards
If you want to buy your child's teacher a token of appreciation but you don't know what to get, you really can't go wrong with a gift card.
"If they feel the need to buy me something, I like gift cards to some place I can use," says Leon Scott Baxer, a third grade teacher in Santa Barbara, California. "One year, parents pooled their finances got me a $100 gift card to a teaching supplies store. I was stunned and so very appreciative."
Gifts
As for gifts themselves, the teachers all downplayed their importance — they were much more enthusiastic about the previously mentioned ideas (and, trust us, they've got enough candles, lotions, and "#1 Teacher" coffee mugs already).
You're better off buying or making something more meaningful. "I have incredible pictures that my students spent hours on decorating my walls," says Baxter. "We love creative projects that make us remember our kids even 20 years later and that we can tell were made from love."
At Holmes's school, during Teacher Appreciation Week one year, each teacher was given a vase, and each student brought a flower to put in it — they formed a beautiful arrangement. Another idea: Have each child bring the teacher a piece of fruit to fill a basket. Or have each kid bring a plant for the school garden.
However you choose to show your appreciation, remember this: "It's not about the amount of money," says Baxter. "For many of us, if there's heart behind the gift or if it's something that we can truly use, we will talk about it for years."
Earth Day Stations
Kindergarten Registration 2019
https://arnofamily.edublogs.org/files/2019/02/Kindergarten-Enrollment-Flyer-2019-20-School-Year-2ko4e62-1wjdhtc.pdf
Preschool Information

Summer Camp and Latchkey
Allen Park Summer Kids Camp is open to all districts and offers children ages 3-13 an opportunity to enjoy a variety of fun activities, field trips and more! Each week offers a different theme and a special event. Our staff will help your child have fun, make memories, and create friendships in a fun and relaxed atmosphere.  Flyer with more info attached – registration form on district website – allenparkschools.com – https://www.allenparkschools.com/apps/pages/index.jsp?uREC_ID=971884&type=d&pREC_ID=1292547
Allen Park Public Schools Latchkey program is designed to provide children with a safe, well-supervised environment when an adult is unable to be at home. The activities include crafts, games, outdoor and indoor play. Our program is play-based and encourages a relaxed environment for the child who is in school all day. We are licensed with the State of Michigan to take care of children between the ages of 3 and 13 years of age.  Flyer with more info attached – registration form on district website – allenparkschools.com – https://www.allenparkschools.com/apps/pages/index.jsp?uREC_ID=971884&type=d&pREC_ID=1292543
Safety Town is an interactive safety awareness program for children from 5-6 years of age. Each day the children will be introduced to various safety issues in a fun and safe environment. The program is taught by a Police Officer and an AP teacher, with hands-on topics led by community guest speakers as well as visits from the Allen Park Police & Fire Departments. Teen volunteers from Allen Park High School lead the children through Safety Town every day and receive valuable training along with obtaining National Honor Society service hours. The children learn about stranger danger, water and beach as well as playground safety, fire safety, pet and bus safety, electrical and gun safety, and personal safety with an emphasis on pedestrian safety. The kids will be bicycling through a miniature town complete with streets, sidewalks, buildings, stop signs and a working traffic signal. Importance is placed on having the children memorize a cell phone number to call if they should ever become lost. We use fun songs to reinforce all of these principles and the children memorize our very own Safety Town Pledge!
Parent Orientation: All children and parents will meet for a 30 minute orientation on the first day of your session (Children stay for full session).  It is the parent's responsibility to bring their child to Safety Town daily and to pick them up promptly. Parents who will have someone else picking up the child will designate that on the enrollment form the first day.