Coming soon to Arno…
May 2
Teacher
Appreciation
Week!!
Kindergarten Roundup 6:30
Hearing screening Y5, K, and 1
May 4
Arno Staff Appreciation Lunch by the PTA
May 5
PTA Meeting 6:30
May 6
Early Release 11:30
May 11
Hearing retakes
May 12
ALICE EVAC DRILL 
May 17
K Screening
APMS student orientation 9:00
May 19
K screening
May 27
PBIS Reward
5th Grade reprod unit
May 30 
Memorial Day- No School
ARNO VISION
ARNO ELEMENTARY WILL PROVIDE A
SYSTEM OF SUPPORT TO EMPOWER
AND INSPIRE STUDENTS TO BECOME
COLLABORATIVE LEARNERS
THAT STRIVE FOR ACADEMIC EXCELLENCE-
Ways you can show appreciation for your child's teacher
Teacher Appreciation Week is fast approaching and will take place this year the week of May 2.  The PTA has some wonderful things planned for our staff, and there are also other ways you can show appreciation for your child's teacher:
Write a thank you/appreciation note

Make a special "Thank you" art project

Record a personal thank you video

Send them a digital or ecard

Send them flowers

Tell your child's teacher what they love about school

Give a special note

KINDERGARTEN ROUNDUP
We are pleased to be bringing back the normal kindergarten round up this spring for all incoming kindergarteners. This year's event will be on May 2 starting at 6:30 p.m. Parents will attend in the gym, all future Cougars will attend within the 3 different classrooms.  Remember that Kindergarten registration is now open at Riley.
Kindergarten 2022-2023 Information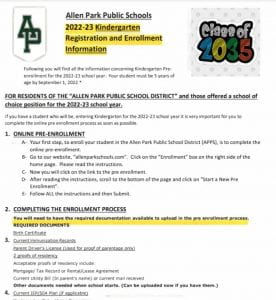 Congratulations

to our New
PTA BOARD

for the 2022-2023 School Year
President: Nicole Adkins
Vice President: Meaghan Bachman
Treasurer: Jesse Spencer
Secretary: Sarah Wald
Please join us for our last meeting of the year on May 5 in the cafeteria at 6:30- childcare is available.  It's important we get everyone involved in the group- the PTA cannot run fun family events without chair people and volunteers- your help makes all the difference!
ALICE Evac Drill
On May 12, Arno will holding our annual ALICE evacuation drill as we make our way to the Presbyterian church on Park. During this time, classes will head out of the building, choose a route to our rendezvou point, and stay there until we are all assembled- finally heading back which will end the drill.

M-STEP
Our Arno Cougars have been working so hard on the M-STEP! We are very proud of their efforts as we wrap up testing during the first week of May.  Parents should receive a parent report from the state by early fall and it will show your child's score, as well their strengths and weaknesses.  More information will come out in when school starts.
3rd and 5th grade march to victory on the M- STEP
Moving?
TEACHER REQUEST PROCEDURE
As we close one school year and begin to plan for the next, student placement is one of our primary considerations.  Our school team of teachers, administrator and social worker spend many hours working together to form classrooms for next year.  We strive to balance classrooms with a blend of students based on academic strengths and needs, social and emotional supports, and the unique personalities of each child.
If you have any special concerns about your child's placement for next school year, please submit a written explanation of the concern.  For example, "my son is very active and needs to be placed in a classroom where he will have opportunities to move around" or "my daughter struggles with reading and needs a teacher with a strong background in reading".
We do not/cannot accept any requests for a specific teacher.  Letters requesting a specific teacher will be not be considered.  The one exception is a request for your child to not be placed in a specific classroom based on previous first-hand experience you've had with a teacher.  And, that parent concern / issue should be documented in the office.  All such letters are due to the office no later than Friday, May 20, 2022.
This is the same procedure that has been used in previous years and is the same procedure used at Lindemann and Bennie.  If you have any questions or concerns about this process, please feel free to contact my office.
Steve Zielinski, Principal
Culver's calendars for PBIS- A 2022 calendar that is filled with valuable coupons for Culver's delicious food!  The cost is $3 and $2 of that will go the building Positive Behavior Support program.  If you are interested in purchasing one, please send in $3 in a labeled envelope with your child's name on it.  Thank you for your support!
EARTH DAY STATIONS
Arno Facebook
"LIKE" us to see lots of great updates and photos from school!  Thank you for promoting this social media platform as a positive way to share the good news and great things happening at Arno!
HERE IS THE LINK!  
https://www.facebook.com/arnoelementary/
Remind
Please consider joining Arno Remind at: