Coming soon to Arno…
Nov. 28
PTA Book Fair Kickoff
Nov. 29
No events
Nov. 30
P/T Conferences 5:00-7:30
December
1
Half-Day Dismissal 11:40
P/T conferences 12:45-3:30/ 5:00-7:30
Dec

.

2

No events
From the PTA
Volunteer Signup for Buccaneer Book Fair
The Arno PTA book fair starts next week, please watch for information coming home on when your child will be shopping.  The book fair will also be open on both conference days for your holiday shopping convenience.  Please consider looking for your teacher's basket when you arrive at the book fair for a chance to donate a book to your child's classroom.
We are seeking some swash-buckling, mateys (ARGH) to help out with our Buccaneer Bookfair! Leave your parrots at home and come help us plunder some books for our wee mateys and the S.S. Arno! All mateys who seek to help us with our plundering quest will receive 5 gold dabloons  ($5 in scholastic dollars) for each shift worked!
There are two separate plundering opportunities available each day (9:00-Noon and/or 1:00-3:30). Of course if you decide to join us for both plundering opportunities, you will earn 10 gold dabloons ($10 in Scholastic dollars)! The plundering stops at Noon-1:00 daily for Lunch or a Pirate Nap! There will be an additional opportunity for an evening plundering session on Nov 30th and Dec 1st from 5:00-8:00 during conferences (Pirate Meetings)!
We look forward to plundering and pilfering with all our mateys! (Pirate attire welcomed, but not necessary)! ARGH!
Spirit Wear
Arno Spirit wear is back!  Please see the flyers below to some very cool Arno swag
PTA Reflections
Congratulations to all of this year's participants in the 2016-17 PTA Reflections contest "What's Your Story?"  These students were able to enter a piece for placemnet in the local and state level.   This year, we will celebrate all our entries with a special lunch with the Principal on Nov. 28.  This lunch replaces the evening celebration, which has been canceled.  We are very excited to hear and see all of the amazing projects our Cougars have created!  All entries had to connect with the theme of "What's Your Story?" and could be done in any of the following categories:
Dance Choreography
Film Production
Literature
Music Composition
Photography
Visual Arts
Congratulations

to the following students for their outstanding efforts
-Marshall Hegedus
– Charlotte Tracz
– Ben Klos
– Morgan Kraft
– Katie Klos
– Madeline Every
– Kaylee Daniels
– Gerry Klos
-Sophia Maldonado
Conferences
Parent/Teacher conferences this fall will be taking place on Nov. 30 (5:00-7:30) and Dec. 1 (12:45-7:30), Dec. 1 is also a half-day- 11:40 dismissal.  This year for conference sign-up, we have once again chosen to use a web based tool called signup genius.  Many of you may be familiar with it as a number of Arno staff and the PTA have used it in the past for various events.  Using this tool allows you to have the ability to choose times that are best for you while looking over the slots available, as well easily scheduling siblings.
Each teacher at Arno has their own signup genius link to click and choose times.  All links are the blog just below, and you will get the same link from your teacher as well next week.  Simply choose the teacher and click an available slot, then go and repeat for siblings in other classrooms.  We will have a computer available in the office if you are not able to access the program.  There will not be any paper sign up this year
Remember:
To be on time
If you have more than one child, please don't schedule back to back as you will need travel time to move around the building
Please select your child's classroom teacher(s) below to sign up for a conference time.  For the fall, we encourage all parents to attend conferences.
Around Arno…
Mrs. Smalley's class enjoys one last warm day learning in the courtyard
Allen Park
Christmas Parade
We are so proud of our Arno Run Club!  They got to be part of the Allen Park Christmas Parade!
Founders Day
Founders Day is quickly arriving! It is a celebration of all the amazing things going on within our school district. Do you know of an outstanding program, volunteer or staff member? If so we need you to nominate one! You can access applications by using this link or picking up a paper copy in the magazine rack across from the Arno main office.
All nomination forms must be submitted by
Tuesday, November 29th
You cab submit your nomination by emailing us at
arnopta@gmail.com
or by turning it into the main office in a sealed envelope marked "Founders Day PTA."
All nominations will be placed on a ballot and voted on by members present at the
December 8th
PTA meeting. The name of the person who has submitted the nomination will be kept confidential. However the written description on why the person or program is deserving will be read out loud.
We encourage you to submit nominations so that we can reward some of our amazing program lead volunteers! 
The person or event that secures the most votes per category will be notified and honored at the Allen Park PTSA Council Founders Celebration! It will be at The Crystal Palace on Monday, February 20, 2016 at 6:00 pm. Dinner tickets will be available in the office for purchase and all are invited to attend a wonderful adult evening and celebrate the great things happening at Arno!
DRESSING FOR THE WEATHER
Brr!  The weather has turned chilly!  Although our afternoons are often warmer than mornings, please send your child to school with a warm coat daily.  We definitely want to take advantage of the sunny fall weather to play on our playground and with our fun new equipment, but need to be dressed appropriately!  It's always a good idea to dress in layers to adapt to changing temperatures.  Please label your child's jackets and sweaters so they can find their way back to their owners if left somewhere.  The Lost & Found is currently full of items needing to be claimed!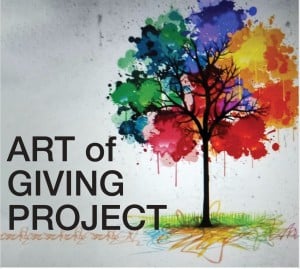 ART OF GIVING PROJECT
Art Drop Boxes will be available in our office for collection of this project:
The ART OF GIVING is a project that is very near and dear to my heart, just as ART is at the HEART of Blake. Although this project is very personal, with all of us working together, it has the potential to impact and uplift so many others.  I began the Art of Giving when my boys were small. The Bowman boys, like many chronically ill children, spent countless hours in the hospital. They tire of the many, often painful, procedures; however, these procedures are their means of survival. Art therapy is a very vital part of these children's care. It creates a positive direction, allows them to express their emotions about their health, and is a different approach to cope through ART.  I have had the rare opportunity to see first hand how amazing art therapy is for these children; please consider joining us during our Art of Giving event, the reward is priceless. ~ Kim Bowman