Monthly Archives:
December 2017
Please enjoy a
holiday song

from our

Christmas Cougars

!
Merry
Christmas

Coming soon to Arno…
Dec. 18
Christmas Sing-along 2:30
Dec. 19
3rd grade mobile learning
K Field Trip
Dr. Hall reads to 4th grade
Honor Choir Concert 6:30
Dec. 20
No events
Dec. 21
No events
Dec. 22
1st grade field trip
PBIS reward
Dec. 23-Jan 7
Christmas Break

Jan 8
Happy New Year! School Resumes
On behalf of the entire Arno staff, we wish you
and your family a very Merry Christmas and a Joyous New Year!
Congratulations to all of our Founders Day Award Winners!
2018 PTA Founders Day Winners 
Outstanding Educator –
Nikki Stanley
Outstanding Support Personnel –
Tim Tanksley 
Distinguished Service –
Shannon Mihalik
Outstanding Program – Fun Run (
Jeff Mouchet, Julie Hegedus, Nicole Atkinson & Shannon Mihalik

)
Business Partner –
ATS Tax Preparation

, Allen Park
From the PTA
Happy
Holidays
and Merry Christmas from your PTA! We couldn't be more thankful and appreciative for all of the support we have received this year from our members and school community.
A few reminders and information for the remainder of the year:
️No January Meeting! I know we've said a lot lately, but it's easy to forget. Our next scheduled PTA MEETING is 
Thursday, February 1 at 6:30 pm
 in the Cafeteria.
️Last day for donations to the Food Pantry is 
Monday, December 18th
. Thank you for all of the generous donations we have received to date.
️
January 19th from 7-9 pm
 we will hold our annual Mother/Son Night at Skore Lanes in Taylor. Coat is $25/couple with each additional child $5. Cost includes: 2 slices of pizza, pop, 2 games of bowling, shoes, and a picture with you and your child(ren).
️And Finally…..In case you have NOT read the PTA Facebook Page…
***And the Winners are for Founders Day 2017…***
Outstanding Educator- Ms. Nickie Stanley
Outstanding Support Personnel- Mr. Tim Tanksley
Distinguished Service- Mrs. Shannon Anderson-Mihalik
Outstanding Program- Fun Run 2017- Jeff Mouchet, Shannon Mihalik, Nicole Falconer-Atkinson, and Julie Hegedus
Business Partner- ATS Advisors Allen Park Office
Congratulations to
EVERYONE
for your dedication and support to Arno and our Community! Our awards banquet will be held at Crystal Park on 
Wednesday, February 21
!
Have a Great rest of the Year! We look forward to 2018!
Hearing Screening
Hearing screens at Arno have been completed for this school year. Kindergarten, first, second, and fourth grades participated in the hearing screening process. Any child in third or fifth grade who failed the school hearing screen last year was likely re-screened this year. If your child did not pass the hearing screen, you have likely received a letter from the Wayne County Health Department already. Many, but not all, failed hearing screens are a result of middle ear fluid/ear infections. Follow-up with a doctor is recommended, and the letter includes a section for a physician to complete following the examination of your child. The completed letter should be returned to the Wayne County Health Department. If a parent or teacher has concerns regarding a child's ability to hear, please contact Lesli Sutherland, hearing consultant for the district: (734)692-4618; sutherlandl@trentonschools.com

Christmas around the

world
Second grade got a real treat last week when they participated in Christmas around the world stations.  The group went from country to country, learning facts about how they celebrate differently from us, like shoes left by the fireplace to put presents in.  Learning fun!
Art on display
Here are the photos from our Luke and Lulu's December display.  Each student featured receives a flyer for $2 off next purchase.   This display features six 2nd grade Lindemann artists and five 1st and Kinder Arno artists!  Art will be on display until 

January 15th

.
Allen Park elementary art students are studying the elements of art this school year.  Kindergarten is learning that they can draw anything using basic lines and shapes, which you can see in their Rudolph reindeer portraits.  1st grade created implied texture by using found materials to print on their birch trees.  They used painted paper cut into simple shapes to create these snow birds!  2nd grade studied the work of folk artist, Heather Galler.  They created cute coffee cups with lots of patterns!  Artists featured here are from Arno and Lindemann Elementary schools.

Way to go!
Congratulations to Dr. Barb Chuby and Sandy Artman on their $7200 grant from Rotary for AP elementary book rooms.  A check was presented Monday night at the Board meeting and it was a proud moment for all of our elementary staff and students!  They truly are a great example of our AP mission!

Super Cougar Pizza Lunch
Once again we celebrated with out outstanding role models- November Super Cougars with a delicious pizza lunch.  We are so proud of these students and are proud to call them our Arno Cougars!
Haskin-Adrian Rosado
Stanley- Klaudia Dyrmishi
DiCarlo- Jon Gramlich
Martinchick- Edwynn Green
Watson – Alejandro Zarate
Pushman – Jacob Melnyk
Schultz- Susie Oh
Cervantes- Marshall Hegedus
Amonette- Camdin Broome
Warneck- Jeziah Roldan
Guyot- Joshua Booher
Wesley- Jenny Reeves
Kalis- Alexander Hoerle
Smalley-Ben Klos
Trionfi- Ethan Armstrong
Higgins- Avery Barrow
Creutz- Angela Dunnett
Andersen-Owen Choppa 
Hool- Kyle Cameron
Jensen-Kenny Davis
4th Grade Buddies
Students from Mrs. Kalis's class and Mrs. Jensen's class buddied up for some December exercise as they enjoyed some volleyball.  Great fun and friendship was had by all
SMART Reading Tips for the Holidays
Winter break is right around the corner, and holidays can get pretty hectic! Routines can fly out the window with celebrations, travel and out-of-town guests. As your family prepares for the holidays, use these tips for keeping kids engaged in learning and reading over winter break.
Read for fun! Whether your child is in the mood for holiday stories or the newest installment from a favorite series, winter break provides the perfect opportunity to set aside school books and read for fun. Make time for bedtime stories to create the routine and enjoy books on a daily basis.

Stock up on books at the local library. Help your child pick out books they're interested in reading over the winter break. Libraries may also have fun, free holiday activities throughout the break.

Make the most of travel time. Turn travel time to or from a holiday get-together into an opportunity to practice reading. You can look for license plates from different states, try to find the alphabet on the license plates, or count the number of red (or white or green) cars you see. Read street signs and billboards you see along the way.

Create a new tradition. A little predictability is comforting for kids. Starting a special Winter Break Story Time can be a new tradition that links reading with happy memories. Hot cocoa and your favorite stories will have the whole family feeling comfy and cozy, while creating memories that will last a lifetime.
Remember, you don't have to be an expert to help your child with reading. By simply interacting with children around books, you can show them that books are important and worthy of our attention.

Coming soon to Arno…
Dec. 4
No events
Dec. 5
Super Cougar Lunch 11:00
Dec. 6
No events
Dec. 7
PTA Meeting 6:30
Dec. 8
Report Cards Go Home
Dec. 11
No events
Dec. 12
No evetns
Dec. 13
No events
Dec. 14
4th and 5th grade concert APAC 6:30
Detroit Pistons Assembly
Dec. 15
Half-Day dismissal 11:40 a.m./Teacher PD
From the PTA
Welcome Back! We hope everyone had a
WONDERFUL
Holiday Break are ready to rock the rest of the school year!
Just a few reminders of upcoming events…
Due to the HIGH DEMAND of Nacho 
Monday's
… on 
Monday, December 4th from 11am-9pm
, at the Allen Park and Southgate Locations, we will be having an
Angelina's Fundraiser
once again! Please come out or order out and mention Arno PTA and we will receive 20% of your bill. Thank you so much for your support!
✅Our
FINAL PTA Meeting of 2017
will be held on 
Thursday, December 7th from 6:30-7:30
 (this meeting may go over due to Founders Day Voting) in the Arno Cafeteria! We will be voting on our Founders Day Nominations and many other upcoming events for 2018! Please join us!
Family Caring Night
is coming!! During our Christmas Break we will be holding our annual Family Caring Night/Family night Out event at Skore Lanes in Taylor on 
Wednesday, January 3rd
. Their event will benefit TASKK (Taylor Animal Shelter Kanines and Kats). A donation box will be available in the office if you would like to donate food, gift cards, toys, etc to the animals! More information about the event will be available soon!
We will also be selling
Spirit
wear at our December meeting- makes for great gifts under the tree! We have the new design and limited stock with the other Arno designs
We hope to see many of you at our next meeting!
Have a great weekend!
Fundraiser Reminder…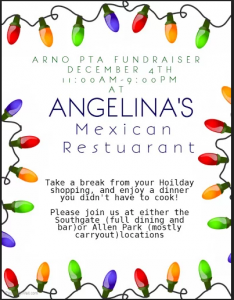 Founders Day
Founders Day is quickly arriving! It is a celebration of all the amazing things going on within our school district. Do you know of an outstanding program, volunteer or staff member? If so we need you to nominate one! You can access applications by using thelinks below or picking up a paper copy in the magazine rack across from the Arno main office.
All nomination forms must be submitted by December 4
You cab submit your nomination by emailing us at 
arnopta@gmail.com
 or by turning it into the main office in a sealed envelope marked "Founders Day PTA."
All nominations will be placed on a ballot and voted on by members present at the 
December 7th
 PTA meeting. The name of the person who has submitted the nomination will be kept confidential. However the written description on why the person or program is deserving will be read out loud. We encourage you to submit nominations so that we can reward some of our amazing program lead volunteers!
The person or event that secures the most votes per category will be notified and honored at the Allen Park PTSA Council Founders Celebration! It will be at The Crystal Palace on Wednesday, February 21, 2016 at 6:00 pm. Dinner tickets will be available in the office for purchase and all are invited to attend a wonderful adult evening and celebrate the great things happening at Arno!
founders_day_2018business_partner_award-25kbule founders_day_2018distinguised_service_award-zvy6qz
founders_day_2018support_personnel_award-ubcftj
founders_day_2018pta_life_member_award-1v9ykfe
founders_day_2018council_member_award (1)-2c8nx0r
founders_day_2018outstanding_student[1]-1kku5cf
founders_day_2018outstanding_program_award-17ffk61
founders_day_2018outstanding_educator-2m069we
founders_day_2018business_partner_award-25kbun0
Get Registered to help our PTA
Please take a moment to link your 
Kroger

 cards
 to Arno Elementary PTA. This program has proven to be very beneficial to us and we would love to have more cards registered!
You can also support us by going to 
www.amazonsmiles.com
 & choosing us when you do your Christmas shopping at Amazon!
More info on Kroger:

Time to Kalahari again…
Arno Elementary 1.3.18-1v6kqjb
Flip you Lid for AP Benches Info here

Golden Tray Award for November
Congrats to the following classes for earning the Glden Tray award for great lunch behavior!
K- Ms. Stanley
1- Mrs. Pushman
2-Cervantes
3-Warneck
4-Smalley
5-Higgins
Night out…
Dear Arno, Bennie & Lindemann Parents/Guardians,
Are you ready for a parent night out to get some holiday shopping done, have a nice meal out or just enjoy some quiet time at home?
The APHS Class of 2019 will entertain your K-5 children – pizza, drinks movie, photo booth and crafts provided!  The Parents Night Out event will be held on Saturday, December 16 from 5:00-9:00 p.m. – please see attached for details.
Reservations are suggested – take advantage of the discounted early registration pricing!  Please turn in completed forms, cash in marked envelope or checks payable to APHS Class of 2019 to your school office by December 13.
Enjoy!
Mrs. Tanya Duffy, Class Advisor & APHS Class of 2019

Kindergarten Turkey Time
Our K students enjoyed a special time just before Thanksgiving and created a huge turkey for our hallway!

Dr. Hall visits 4th grade for some reading time