Coming soon to Arno…
Dec. 4
No events
Dec. 5
Super Cougar Lunch 11:00
Dec. 6
No events
Dec. 7
PTA Meeting 6:30
Dec. 8
Report Cards Go Home
Dec. 11
No events
Dec. 12
No evetns
Dec. 13
No events
Dec. 14
4th and 5th grade concert APAC 6:30
Detroit Pistons Assembly
Dec. 15
Half-Day dismissal 11:40 a.m./Teacher PD
From the PTA
Welcome Back! We hope everyone had a
WONDERFUL
Holiday Break are ready to rock the rest of the school year!
Just a few reminders of upcoming events…
Due to the HIGH DEMAND of Nacho 
Monday's
… on 
Monday, December 4th from 11am-9pm
, at the Allen Park and Southgate Locations, we will be having an
Angelina's Fundraiser
once again! Please come out or order out and mention Arno PTA and we will receive 20% of your bill. Thank you so much for your support!
✅Our
FINAL PTA Meeting of 2017
will be held on 
Thursday, December 7th from 6:30-7:30
 (this meeting may go over due to Founders Day Voting) in the Arno Cafeteria! We will be voting on our Founders Day Nominations and many other upcoming events for 2018! Please join us!
Family Caring Night
is coming!! During our Christmas Break we will be holding our annual Family Caring Night/Family night Out event at Skore Lanes in Taylor on 
Wednesday, January 3rd
. Their event will benefit TASKK (Taylor Animal Shelter Kanines and Kats). A donation box will be available in the office if you would like to donate food, gift cards, toys, etc to the animals! More information about the event will be available soon!
We will also be selling
Spirit
wear at our December meeting- makes for great gifts under the tree! We have the new design and limited stock with the other Arno designs
We hope to see many of you at our next meeting!
Have a great weekend!
Fundraiser Reminder…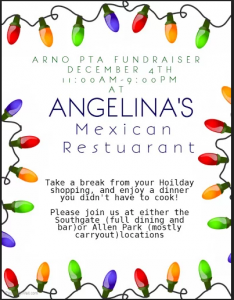 Founders Day
Founders Day is quickly arriving! It is a celebration of all the amazing things going on within our school district. Do you know of an outstanding program, volunteer or staff member? If so we need you to nominate one! You can access applications by using thelinks below or picking up a paper copy in the magazine rack across from the Arno main office.
All nomination forms must be submitted by December 4
You cab submit your nomination by emailing us at 
arnopta@gmail.com
 or by turning it into the main office in a sealed envelope marked "Founders Day PTA."
All nominations will be placed on a ballot and voted on by members present at the 
December 7th
 PTA meeting. The name of the person who has submitted the nomination will be kept confidential. However the written description on why the person or program is deserving will be read out loud. We encourage you to submit nominations so that we can reward some of our amazing program lead volunteers!
The person or event that secures the most votes per category will be notified and honored at the Allen Park PTSA Council Founders Celebration! It will be at The Crystal Palace on Wednesday, February 21, 2016 at 6:00 pm. Dinner tickets will be available in the office for purchase and all are invited to attend a wonderful adult evening and celebrate the great things happening at Arno!
founders_day_2018business_partner_award-25kbule founders_day_2018distinguised_service_award-zvy6qz
founders_day_2018support_personnel_award-ubcftj
founders_day_2018pta_life_member_award-1v9ykfe
founders_day_2018council_member_award (1)-2c8nx0r
founders_day_2018outstanding_student[1]-1kku5cf
founders_day_2018outstanding_program_award-17ffk61
founders_day_2018outstanding_educator-2m069we
founders_day_2018business_partner_award-25kbun0
Get Registered to help our PTA
Please take a moment to link your 
Kroger

 cards
 to Arno Elementary PTA. This program has proven to be very beneficial to us and we would love to have more cards registered!
You can also support us by going to 
www.amazonsmiles.com
 & choosing us when you do your Christmas shopping at Amazon!
More info on Kroger:

Time to Kalahari again…
Arno Elementary 1.3.18-1v6kqjb
Flip you Lid for AP Benches Info here

Golden Tray Award for November
Congrats to the following classes for earning the Glden Tray award for great lunch behavior!
K- Ms. Stanley
1- Mrs. Pushman
2-Cervantes
3-Warneck
4-Smalley
5-Higgins
Night out…
Dear Arno, Bennie & Lindemann Parents/Guardians,
Are you ready for a parent night out to get some holiday shopping done, have a nice meal out or just enjoy some quiet time at home?
The APHS Class of 2019 will entertain your K-5 children – pizza, drinks movie, photo booth and crafts provided!  The Parents Night Out event will be held on Saturday, December 16 from 5:00-9:00 p.m. – please see attached for details.
Reservations are suggested – take advantage of the discounted early registration pricing!  Please turn in completed forms, cash in marked envelope or checks payable to APHS Class of 2019 to your school office by December 13.
Enjoy!
Mrs. Tanya Duffy, Class Advisor & APHS Class of 2019

Kindergarten Turkey Time
Our K students enjoyed a special time just before Thanksgiving and created a huge turkey for our hallway!

Dr. Hall visits 4th grade for some reading time