Coming soon to

Arno…
Dec. 10
No events
Dec. 11
Restaurant Fundraiser
Dec. 12
No events
Dec. 13
No events
Dec. 14
Early Dismissal 11:30 *************
Dec. 17

Christmas
sing-along 2:30
Dec. 18
Choir Concert 6:30 APAC
Dec. 19
Kindergarten to Marquis theater 9:00
Dec. 20
No events
Dec. 21
Christmas Break begins at the end of day
PBIS December reward
Dec. 22

–

Jan 6-
Christmas
Break
Jan 7
Happy New Year and Welcome Back!
Arno 

Vision
Arno Elementary will provide a system of support to empower
and inspire students to become collaborative learners
that strive for academic excellence

Warming 

Tree
In the spirit of sharing holiday warmth, we will be collecting new, warm outerwear like hats, gloves, mittens, and scarves to share on our warming tree located in the main hallway.  Please consider donating to help out less fortunate children by December 21.  Thank you for your help.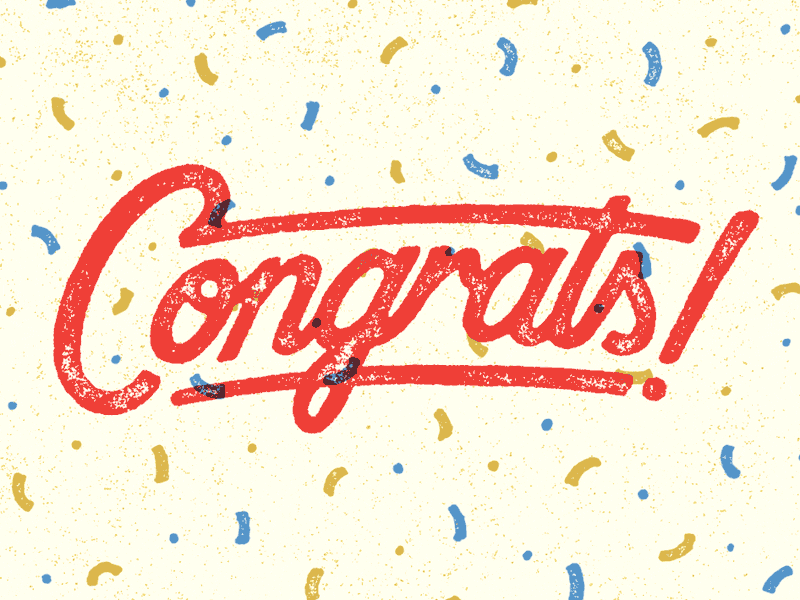 Congrats

Mrs. Cervantes

! Outstanding Educator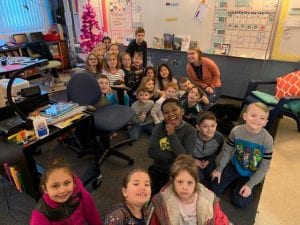 Congrats

Mrs. Manson

! Support Personnel
From the

PTA
This year we are holding a brand-new fundraiser at Five Below and just in time for the Christmas Holiday! This fundraiser will be held from December 14-16th from 8:00 a.m. to 11:00 p.m. at the Allen Park location. 10% of your total purchase will be donated BACK to Arno Elementary PTA! The flyer for this event will be sent home next week. Remember to bring the flyer that is being sent home to the event, so we can get credit for your purchase! Go grab your stocking stuffers and gifts folks!
Congratulations to our Founder's Day Winners!
Business Partner: Awesome Audio Video Solutions
Support Personnel: Heather Manson
Outstanding Program: Fun Run
Distinguished Service Award: Julie Hegedus
Outstanding Educator: Alexandra Cervantes
Spirit wear orders will be arriving around December 17th just in time for Christmas. They will be sent home with your littles so keep a look out!
Calling all Dads!!! We are looking to add as many "dad" memberships to the PTA! Dads, stepdads, uncles, grandfather etc. ALL count! To join the ARNO PTA please visit https://arnopta.memberhub.store/shopping/categories/2860 OR submit a completed membership form along with the $7 membership fee to the ARNO office.
**When you join the PTA before December 28th 2018 each new "dad" membership will be entered to win a free couples entry to the Mother/Son night or Daddy/Daughter Dance.**
Congratulations to all our Reflections Winners! We had an amazing group of students this year! An invitation to the District wide celebration will be sent home in January.
Primary pre-K to 2nd
Literature:
Gabriel Minton     Mrs. Watson
Brady Proctor      Mrs. Watson
Visual Arts:
Nina Hegedus.     Mrs. Martinchick
Landon Yuhaz      Mrs. Martinchick
Music Composition:
Leyla Franklin        Mrs. Schultz
Intermediate: Grades 3-5
Literature:
Ava Proctor        Mrs. Smalley
Alle Bailey        Mrs. Smalley
Calling all

Dads

!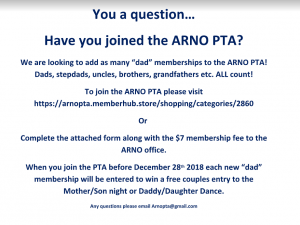 Five Below PTA Fundraiser

Congratulations…
To all of our students who entered the PTA sponsored Reflections contest on "Heroes around me".  We are so very proud that so many students entered this year.  As part of that contest, winners are picked for each category and will go on to the state judging where they can earn additional recognition.  All of our state winners are below!
Primary pre-k to 2nd

Literature:
Gabriel Minton     Mrs. Watson
Brady Proctor       Mrs. Watson

Visual Arts:
Nina Hegedus      Mrs. Martinchick
Landon Yuhaz      Mrs. Martinchick

Music Composition:
Leyla Franklin        Mrs. Schultz

Intermediate: grades 3-5

Literature:
Ava Proctor         Mrs. Smalley
Alle Bailey            Mrs. Smalley

Music Composition:
Loren Minton       Ms. Higgins

Photography:
Dennis Hougas    Mrs. Warneck

Visual Arts:
Grace Nation        Ms. Higgins
Loren Minton       Ms. Higgins

Film:
Alyssa Thomas    Mr. Creutz
Reflections

Recognition

and

Celebration

Breakfast
Time to pack for Kalahari
Please see the attached brochure for another Arno fundraiser at Kalahari Resort.
Safeties of the

Month
Congratulations to November's Shining Stars!
Luke Ferroni
Mallory Hool
Isabella Bergman

New Band

Website
Please click on the link below to view Mr. Skebo's band website

Fifth Grade Science in Action

–

The Food Chain Game

Looking for more ways you can help your

child

at home?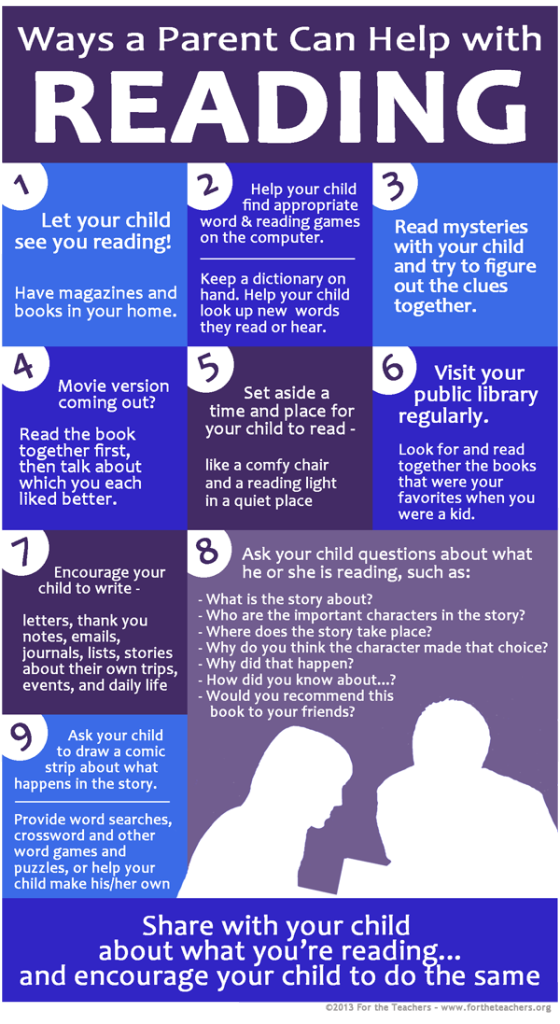 How about

Math

?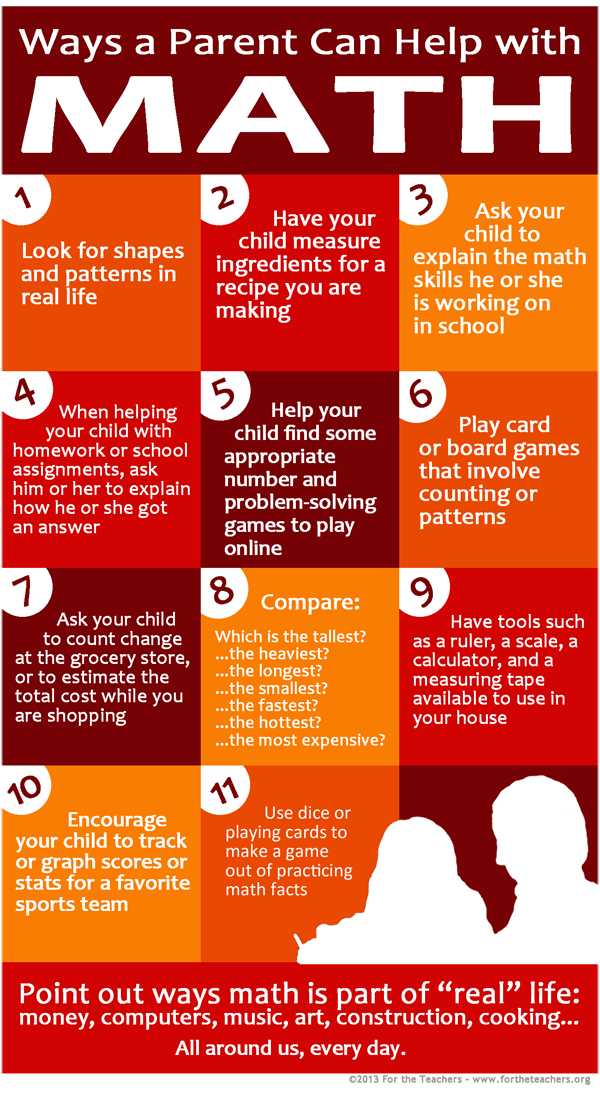 Information from F.A.N

District-wide 

Holiday 

Toy Box Drive
The annual district-wide toy drive for local families, as in the past we are looking for donations of new or gently used clothing and toys.  The box for drop off is in the main office at our school until December.  Please consider donating something if you are able.

Health Corner
Winter time brings some additional challenges to school aside from the cold weather.  Below are a few reminders for helping our students to stay safe and healthy at school:
Wash hands frequently — especially after using the restroom, coughing, or sneezing.
Cover your cough — cough or sneeze into your elbow or a tissue.
Encourage children to put hats and gloves into coat sleeves when hanging among others' items.
Please report all cases of communicable illnesses or circumstances to our office when reporting your child's absence.
** Students should be fever-free for 24 hours without the use of fever-reducing medication before returning to school.
** Students who have been treated for head lice must have a head check in the office before returning to class, even if the head lice was discovered over the weekend.
By reporting these things to our staff, we can limit the spread of germs and other things.  The two attachments contain additional information that may be helpful to you.  Please know that information related to illnesses is kept confidential.  Please feel free to contact me if you have any questions.


DRESSING FOR THE

WEATHER
Brr!  The weather has turned chilly!  Although our afternoons are often warmer than mornings, please send your child to school with a warm coat daily.  We definitely want to take advantage of the sunny fall weather to play on our playground and with our fun new equipment, but need to be dressed appropriately!  It's always a good idea to dress in layers to adapt to changing temperatures.  Please label your child's jackets and sweaters so they can find their way back to their owners if left somewhere.  The Lost & Found is currently full of items needing to be claimed!