Coming soon to Arno…
June 3
Field Day per schedule
June 4
Field Day per schedule
3rd Grade to Greenfield Village
June 5
Kindergarten to the Zoo
NWEA Top 10 reader picnic
Barb/Cathy Retirement party
June 6
No events
June 7
Mrs. Warneck to AP Library

Mrs. Pushman and the Grads
June 10
2nd Grade Picnic
Mentor Celebration
PBIS Reward
June 11
Super Cougar Celebration
EARLY Dismissal 11:30
June 12
Kindergarten Picnic
5th GRADE Graduation 9:00
EARLY Dismissal 11:30
June 13
Early Dismiss  11:30
Last Day of CLASSES!
June 14
Last day for Teachers
**Office closes on June 21.  We will reopen on August 19
Have a Fantastic Summer!
See you Fall 2019!!
 
Congrats to the Class of 2019 APHS!!  Today's Senior Walk at Arno
School News…
School Supply Lists are out and ready to go…
This year we are using Teacherlists.com to post all of our supplies.  You can access the lists down below from the click-button, or you can access from our Arno site off the main APPS website.  This feature also allows you to choose a store, if you wish, which auto sets up the list for purchase and lets you finish the process without ever setting foot in a store.
https://www.teacherlists.com/schools/31210-arno-elementary-school

Class Lists- Important- on parent blog
It is very important that you are sure your email address is updated in our system as class lists will not be posted this fall,  please visit MiStar Parent Connect during the last week of August to see your child's placement.  Paper copies will be available the first day of school to be sure everyone gets to their correct classroom.
NO BACKPACKS PLEASE…
Please note that students may continue to carry backpacks through Monday, June 10.  They will no longer be allowed for the next 3 half days leading up to the last day.

Some New Beginnings
Some people would say that change is good.  In some cases they would be right,, but not in this case.  This year we must say goodbye to three of our MVP's of Arno- Sandy Bennett, Dr. Barb Chuby, and Jenny Dalton.  The mark they have left on us, and the tremendous impact on kids that they have had is immeasurable.  They are truly the professionals that put kids first everyday, but have also been tremendous supporters of our staff.  We wish them well in their retirement as they begin anew, waiting for their next big adventure.  They will always be an Arno Cougar- We will miss you!!!

Sandy Bennett
Mrs. Bennett is an Arno veteran and our social worker , while also splitting her time with Bennie Elementary. Sandy has a way with kids.  She can get on their level, she knows every strategy to get them to feel comfort, calmness, and safety.  The students and staff have trust in her, and confidence that she helps the students in extraordinary ways that they can focus on their schoolwork.  Sandy has also been pivotal in Arno's implementation and maintenance of our building PBIS program, as well as proving a mentor program for our 5th grade to mentor younger students.  Her dedication to her profession shines through every time she enters our building.  You will be missed Sandy!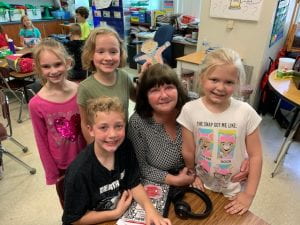 Dr. Barb Chuby
Dr. Chuby is also an Arno veteran and has been our number one At-Risk teacher.  She coordinates a staff that have the charge of moving up all of our students that may be struggling, along side our teachers.  Barb is at the top of her game- the movement in scores that we have seen this year is incomparable.  Like Mrs. Bennett, she too has developed those key relationships with kids and staff that develop trust.  She inspires them to have a positive mind-set- motivating them to learn, which includes her tireless help in building our new M-STEP programming and motivational vocab videos.  She is an integral part to our success and you will be missed Dr Chuby!
Jenny Dalton
Mrs. Dalton has been a fixture here at Arno and Bennie for a long time.  As we all know, gym is one the student's favorites- and Mrs. Dalton certainly is the main reason for that.  She is skillful at giving the kids an immersive experience when they play new games, and even bring guests out like she did this for her bowling unit.  In the age of video games, gym is such an important subject to help motivate kids to get exercise and play games on their own- Jenny has done a great job of that, inspiring so many to put the devices down and get outside and play!  We will miss Mrs. Dalton and your motivational lessons!
We also say goodbye to two of our 5th Grade Teaching Veterans
At a recent district meeting, Mrs. Hool and Mr. Creutz accepted new positions at Allen Park Middle School in Science and English Language Arts.

Melissa Hool
Just as the aforementioned staff, their contributions will be missed!  Mrs. Hool was instrumental every year in her efforts for 5th grade camp.  She tirelessly worked on fundraising with families to help pay down the cost of camp so that more students could participate.  She also ran one of our great March events- Bingo for Books.   What a better prize for a student to receive than a book, and Melissa made sure the entire event was enjoyable and fun for our families! We will wish her all the luck in science at APMS- We will miss you Mrs. Hool!

Todd Creutz
Mr. Creutz will be joining the Language Arts department at APMS in the fall.  He has been a great mentor for kids and worked very closely with our ESL language students to give them the very best experience in learning.  Todd also did a great job with our Arno Broadcast team and worked with the students who put together a successful broadcast program for the students and staff throughout the year. We will miss you Todd!
Other changes for the fall 2019
Mrs. Wesley will be moving to the reading specialists role at Arno

Mrs. Smalley will be moving into physical education

Mrs. Kalis will be moving to third grade

Ms. Johnson will be moving to 4th grade

Mrs. Harrison will be returning and placed in kindergarten
NWEA Celebration Assembly
We kicked off another celebration of our students who have worked so very hard to meet their goals on the NWEA.  This time around, all students who met their goal or achieved grade level on their NWEA will receive an extended recess.  We also have a Top 10 reading scores per grade, and a "Biggest Jump" category for those who saw the biggest jump in score from Sept. to May.  All Top 10 and Big jump kids will be attending a pizza picnic at Boccabella park on June 5- those students have a note and permission slip to take home.   It was so great to see all of the smiles and the M-STEP charm necklaces, which were very filled up to end our testing season!
Congratulations!
Mrs. Wesley
Mrs. Warneck
Mrs. Guyot
Mrs. Smalley
Mrs. Kalis
Mr. Trionfi
Mrs. Hool
Ms. Higgins
Mr. Creutz
Top 10 
Biggest Jump
Arno Therapy Dog Program at the Board
Your fellow Cougars took to the main stage last night at the Board Meeting.  They were showcasing one of the many wonderful programs we do at Arno- the Reading 
Therapy

 

Dogs

 in Mrs. Warneck's, Mrs. Jensen's, Mrs. Bleau's, and Mrs. Haskins's classrooms.  The 

dogs

 were a hit as well as the great job our little Cougars did (Ariana, Luke, Matthew and Gwen),  Thank you for all you do to make special moments like this happen!  So Proud!
5th Grade Graduation
It's hard to believe that we are already upon the end of the year.  That always means celebrations, picnics, and special activities.  The biggest event that takes into the summer, though, is 5th Grade Graduation.  We will be hosting the celebration on June 12 starting at 9:00.  Following the program, the students will be going next door for a fun brunch of goodies.  Please mark your calendars
Incoming 6th Grader Powerpoint

PBIS Clubs
The May PBIS reward ws modified this time to introduce PBIS clubs.  The idea is that the student get their choice of 5 different classrooms that have a themed "club"- Some examples include LEGOs, puzzles, stuffed animals, games, etc.  The kids had a great time and were all smiles during their club time.

Arno Cleans Up
As you can see from the pics below- our Arno Cougars have been working hard cleaning up the grounds.  We thank them for all their community service- they did a great job!