Thank You PTA for an amazing Staff Appreciation Week!!!
Coming soon to Arno…
May 8
Kindergarten Roundup 6:00
May 9
4th Grade MSTEP Math PT
May 10
Final fire drill
PBIS meeting 3:45
May 11
4th Grade MSTEP Science
Skating Party 6:00
May 12
No events
Staff Appreciation Week
Pictures from our Staff Appreciation Week which included a delicious breakfast and lunch (Catered by Kyle Kalis), many goodies and many well wished.  I wish to thank the entire PTA and parent volunteers who helped make this a memorable week for staff at Arno!
Steam Museum is in need of volunteers
What if you could bring the experience of visiting a science museum right to your school? Mrs. Warneck has coordinated a new  learning experience this year, a STEAM Museum.   Students in grades K-5 will explore a science  museum brought right to their school at their own pace and manage their time between stations that appeal to their individual interests. Adult supervision from the Mobile Ed presenter and parent volunteers will need to be present at some of the stations to focus the students and to positively enhance the experience with small group instruction.  We are need of volunteers for that day to help make this experience happen.  If you are able to give some time, please click the link below and sign up for a time.  Thank you for your support!
http://www.signupgenius.com/go/30e0e4bacad22a4fd0-steam
From the PTA
"OH What a Week!"
This week is one of the Executive Boards favorites! This is the week that not only do we get to be thankful for all that our Arno staff does for us, but our families get to spoil our staff too. From Handwritten notes, a thoughtful email, a gift card to a staff members favorite place, a favorite snack, or just telling someone how much they mean to you and your family, these are all wonderful ways to show gratitude.
We started out our week serving a delicious homemade breakfast all prepared by our Staff Appreciation Week Chair, Kyle Kalis. Biscuits and Gravy, Fresh fruit, oatmeal with fresh berries, raisins, and brown sugar on the side, mini cinnamon rolls, orange juice, coffee, and whipped butter! It was quite a spread!
Tuesday

we distributed checks that the membership voted on when deciding what to do with our year end funds. Each teacher with a classroom, specials, and department heads received a check and a handwritten thank you card from the PTA. This is the FIRST TIME in YEARS that the PTA has been able to give to all the teachers and departments a monetary gift on top of all of the other ways we have shown our thanks to them this past year. We all know that teachers give countless amounts of their own money to provide our students with basic needs in the classroom. As the saying goes…"Every little bit helps".
On Wednesday

, the PTA distributed Gift Cards to all the aides, paraprofessional, lunch room helpers, latchkey personnel, maintenance workers, administrative professionals, and the Principal!!! We wanted to let them know that they are just as appreciated!
Thursday

, the PTA held a luncheon for the Arno staff. Once again, our trusty Chair, Kyle Kalis outdid himself with a phenomenal lunch! Handmade sandwiches, salads, and fresh fruit! The PTA provided chips, water and soda. The Staff also got an ice surprise in the morning from our local Biggby Coffee Shop on southfield road! The owners and one of our parents, graciously donated hot chocolate, coffee, and a large box of K-Cups!
This week could not have been possible without the generous support of School Community and Mr. Zielinski for planning the staff schedules to allow them all to celebrate and eat lunch together! The staff enjoys this time together because they normally do not get to all eat together.
We our Arno School Community!!! We appreciate all of our hard-working staff!
We had a wonderful final PTA Meeting

tonight

. Lots of great feedback about our Daddy/Daughter Dance, Staff Appreciation, and all of our efforts to make Arno a Community that people want to be a part of. We are currently in the planning process for next years calendar, so if you have a suggestion, an idea, or would like to help with any of our events, please contact us via our email (arnopta@gmail.com) or message us on our Arno Elementary PTA Facebook page. We would love to hear your feedback and could use your help planning our Welcome Back Campaign and our Fun Run!
Our Daddy/Daughter Dance Chairs will be distributing pictures the beginning of next week. There was a printing issue with the original pictures, so we are sorry for the delay in getting them back! If you happen to see one of our chairs, please let them know what a great job they did with this event!
April Showers brings MORE showers in May? If you're looking for something to do to survive this recent wet and cold weather on a

Monday

after school, remember to head on over to Roosevelt Lanes. Let them know you're from Arno and you can enjoy:
Shoe Rental
2 slices of pizza
1 glass of soda or juice
1 game of glow bowling
Each additional game will be $1 more!!
All for the bargain price of $6.50 per person!
Our last meeting of the year also meant that we swore in our new
PTA EXECUTIVE BOARD!!! WOO-HOO!!!

We are honored to say that your new board members are: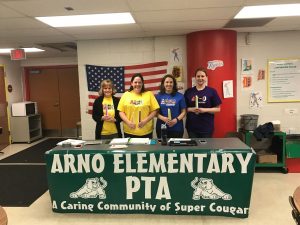 Jeni Sauve- President; Nicole Atkinson- VP of Fundraising; Shannon Mihalik- Secretary; and Julie Hegedus- Treasurer! Congratulations Ladies!!! Here's to another GREAT YEAR! We look forward to partnering with you again!
The PTA Executive Board would like to Thank Amy Muse for her support and commitment serving as our VP of Fundraising this past year. We could not have implemented so many wonderful ideas without her encouragement, dedication, and hard work! We look forward to working with you on a different scale this next school year!
Have a dry and safe weekend! For many Allen Parkers, this weekend is the Opening Day for APAC! Have a fun and dry start to your baseball/softball seasons! PLAY BALL!!
TEACHER REQUEST PROCEDURE
As we close one school year and begin to plan for the next, student placement is one of our primary considerations.  Our school team of teachers, administrator and social worker spend many hours working together to form classrooms for next year.  We strive to balance classrooms with a blend of students based on academic strengths and needs, social and emotional supports, and the unique personalities of each child.
If you have any special concerns about your child's placement for next school year, please submit a written explanation of the concern.  For example, "my son is very active and needs to be placed in a classroom where he will have opportunities to move around" or "my daughter struggles with reading and needs a teacher with a strong background in reading".
We do not/cannot accept any requests for a specific teacher.  Letters requesting a specific teacher will be returned.  The one exception is a request for your child to not be placed in a specific classroom based on previous first-hand experience you've had with a teacher.  And, that parent concern / issue should be documented in the office.  All such letters are due to the office no later than Friday, May 19, 2017.
This is the same procedure that has been used in previous years and is the same procedure used at Lindemann and Bennie.  If you have any questions or concerns about this process, please feel free to contact my office.
Steve Zielinski, Principal

Ronald McDonald House
For quite some time now Madeline Every has maintained a donation box in the office of pop pull tabs to benefit the Ronald McDonald House in Detroit.  A very worthy cause, Madeline reports that she has several drops through the year that helps the house to buy some supplies.  On Tuesday, Alex Varga helped out in a big way when he donated approximately 155,000 tabs with the help of his family.  A field trip in the summer is now planned between the two families to actually go downtown for the donation and see the process all the way through.  The tabs are melted down and recycled, in which the charity then gets the proceeds.  What an outstanding, shining example of kids at their best!  Way to represent Arno in the community!!
 This story will appear in an upcoming edition of the Times-Herald.

4th Grade enjoying book club collaboration
M-STEP Update
We are now completely through 5th grade M-Step, and we have now moved onto 4th grade.  This week, our 4th graders to the ELA test, as well as math.  They have two testing sessions to go next week with the math performance task and Science scheduled Tuesday and Thursday.

APPS LIMITED SCHOOLS OF CHOICE PROGRAM for 2017-18
The Allen Park Public School District has established a successful Schools of Choice Program for the past several years and the Board of Education has approved continuation of the program for the 2017-18 school year for Kindergarten through 8th Grade.  (Requests for specific elementary schools cannot be guaranteed)
Applications are available beginning Monday, April 10 at the Riley Education Center, 9601 Vine.  Completed applications will be accepted beginningTuesday, May 2 through Monday, May 22, 2017 from 7:30 a.m. until 4:00 p.m. weekdays in the Pupil Accounting Office at the Riley Education Center.  Completed applications must be presented in person to ensure that all information is complete.  A random draw selection will be held on June 1 at 9:00 a.m. at the Riley Education Center.  The draw will determine numerical selection for acceptance of candidates.
We ask that you help us by sharing this information with friends and/or family members who may be interested in having their children become a part of the Allen Park Public Schools Family.
For more information about the Schools of Choice Program, please see the attached FAQ's, visit our website at apps.k12.mi.us or call (313) 827-2105.

PRESCHOOL INFORMATION
If you have a child who will be 3 years old by September 1st, 2017 or a 4 year old child, consider enrolling them in our Preschool Program.
Registration will begin for in-district residents on Friday, April 21st, 2017 at 7:30 AM at the Riley Education Center, 14700 Moore. Out-of-district residents may begin registering Friday, April 28th, 2017 at 7:30 AM.
Our office hours for registrations are 7:30 AM – 3:45 PM, Monday through Friday.
NO REGISTRATION WILL TAKE PLACE DURING OPEN HOUSE 
For further information, contact Kristy Caleca in the Preschool Office at 313-827-2662 or caleca@appublicschools.com