Coming up at Arno…
March 14
Spirit Day Fundraiser Kickoff
Board Presentation 7:00
March 15
No events
March 16
"Be a word" day! Wear a word pinned to the front of your shirt. Pin the definition on the back.
March 17
Happy St. Patty's Day
Tornado Drill
March 18
NO SCHOOL- Teacher PD
Board of Ed Meeting
Monday's Board meeting will feature all of the elementary buildings presentation on our current status of the School Improvement Plan plan and associated data.   We would love to see you come out and support Arno!

Spirit Wear Online Fundraiser
It's back by popular demand- Arno Spirit sale kickoff is this Monday, March 14.  Awesome news- if you purchase from 3/14-3/28, you will get free shipping  so be sure to order your spirit wear now!  The site link is below, I am also adding it to the right side bar so you can go on anytime (even past this sale) and order Arno wear.

PTA March Newsletter
Please enjoy News from your Arno PTA…
Bingo for Books
A big thank you to Mrs. Hool for organizing our Bingo for books and all of the staff that attended to assist.  It was really a fun time and the kids had great big smiles all the way around!  Thanks to everyone for coming out.
Star Wars Door Winners are…
Congratulations to Mrs. Schultz, Ms. Yesh, and Mrs. Jensen for winning this year's March Door Decorating contest!  The winning classrooms will receive a delicious ice cream sandwich.

March is Reading Month 
We have had great success so far this month in filling our our reading logs for prizes and stickers.  I would like to encourage all of our students to read, read, read and get those logs in next Monday for our next Star Wars reward!  This past Monday, those who turned in their logs received a cool Star Wars pencil, with a Star Wars bookmark coming up next week.  In the meantime we have some more guest readers coming to Arno, and some fun activities coming up:
Wear It Wednesdays:
Every Wednesday during March students can wear it and read it!
*March 16th – "Be a word" day! Wear a word pinned to the front of your shirt. Pin the definition on the back.
School-wide DEAR: (Drop Everything and Read) Students will read every Tuesday and Thursday morning in their classrooms.
Book Commercials: Different books commercials will be presented during morning announcements.
"Caught Reading" Bulletin: Students will try to "get caught reading" at home and/or school and have their photograph taken and displayed in the hall.
Teacher Reading Swap: Teachers will read to different classrooms.
Culminating Read-a-Thon: Monday, March 21st. As a celebration to end MIRM, kids can wear their pajamas and bring in their favorite books/magazines. –
Author Visit: Paul Orshoski – March 24th
May the Force Be With You!
Guest Readers this week
Mr. Creutz's father reading to Mrs. Haskin's  class
Dr. Sturock and Mrs. Metzger came in to share their favorite books with our Cougars!

If You Give a Mouse a Cookie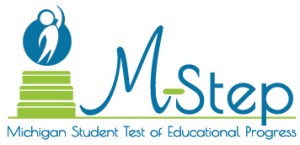 MSTEP UPDATE
This spring, our students in third through fifth grades will be participating in the statewide assessment, M-STEP.  This year, all of our schools will be testing online on Chromebooks.  In addition to some changes made at the state level regarding testing times and format, our staff is working to familiarize the students with the look and feel of the online format of the M-STEP.  By spending a little time each week, we are hopeful that this will provide our Cougars with the best opportunity to showcase the knowledge and skills they have been developing all year.  Below are the links to the online practice sessions, and student tutorial videos that will be shared with students at school.  Please feel free to check them out so you are familiar with the assessment.  We are asking for your cooperation by reminding your child that he or she has learned many great things to be ready for this test, and that we are confident that each of our students will do his or her best.
M-STEP Student Tutorial Videos
M-STEP Student Sample Item Sets
SAFETY TOWN
Who:  Kindergarten to 1st Grade in September 2016
When:  Session (A) June 20 -June 30  (9:00am to 11:30am)
Session (B) June 20-June 30 (12:30pm to 3:00pm)
Where:  Lindemann Elementary (9201 Carter, Allen Park)
A registration form will be sent home with your child the first week of April. Walk-in registration will also be available at the Allen Park Recreation Center Lobby on April 11th from 4-6 p.m.
Safety Town is an interactive safety awareness program for children from 5-6 years of age. Each day the children will be introduced to various safety issues in a fun and safe environment. The program is taught by a Police Officer and a certified teacher, with hands-on topics led by community guest speakers as well as visits from the Allen Park Police & Fire Departments. Teen volunteers from Allen Park High School lead the children through safety town every day and receive valuable training along with obtaining National Honor Society service hours. The children learn about stranger danger, water and beach as well as playground safety, fire safety, pet and bus safety, electrical and gun safety, personal safety with an emphasis on pedestrian safety. The kids will be bicycling about a miniature town complete with streets, sidewalks, buildings, stop signs and a working traffic signal. Importance is placed on having the children memorize a cell phone number to call if they should ever become lost. We use fun songs to reinforce all of these principles and the children memorize our very own Safety Town Pledge!
3rd Grade Maple Tapping (Yummy) and field trip to U of M
Have a fantastic weekend!