Coming soon to Arno…
March 21
No events
March 22
5th Grade Camp Begins- Mr. Zielinski @camp all day
School Improvement Meeting 3:45
March 23
District Art Spring Show 5:30
5th grade camp
PTSA Council Meeting 6:30
March 24
5th grade camp
Author Assembly 9:00
Kindergarten Spring Celebration 1:30
March 25
No School- Spring Break Begins
March 25-April 3

 Spring Break- No School

Have a Happy Easter and Restful Break!

On behalf of the entire Arno staff, have a Happy Easter and enjoy every minute of your break!  (We'll cross our fingers for good weather!)
District School of Choice Program FYI
We ask that you help us by sharing this information with friends and/or family members who may be interested in having their children become a part of the Allen Park Public Schools Family.
Allen Park Public Schools
Limited Schools of Choice Program for 2016-17
The Allen Park Public School District has established a successful Schools of Choice Program for the past several years and the Board of Education has approved continuation of the program for the 2016-17 school year for Kindergarten through 8th Grade.  (Requests for specific elementary schools cannot be guaranteed)
Applications are available beginning Monday, April 4 at the Riley Education Center, 9601 Vine.  Completed applications will be accepted beginning Monday, April 18 through Friday, May 6, 2016 from 7:30 a.m. until 4:00 p.m. weekdays in the Pupil Accounting Office at the Riley Education Center.  Completed applications must be presented in person to ensure that all information is complete.  A random draw selection will be held on May 11 at 9:00 a.m. at the Riley Education Center.  The draw will determine numerical selection for acceptance of candidates.
For more information about the Schools of Choice Program, please visit our website at apps.k12.mi.us or call (313) 827-2105.
Board of Ed Meeting
Monday's Board meeting featured all of the elementary buildings presenting on our current status of the SIP plan and associated data.   Sarah Kalis, Megan Schultz, Melissa Hool, and students Gerry Klos and Kaylee Daniels joined us for the Arno presentation.  I wanted to thank everyone for all their hard work and dedication to make learning the best it can be at Arno.  Great job team!
The other agenda item for the night was adopting Singapore Math as the new new math series (not curriculum) for the elementary schools.  This has been an exciting process and the elementary staff is eager to get training for our fall 2016 implementation of the new program.  More information will be coming out as get closer to next school year, including info for parents on the program.
SIP Board Presentation March 2016
Spirit Wear Online Fundraiser
It's back by popular demand- Arno Spirit sale kickoff is this Monday, March 14.  Awesome news- if you purchase from 3/14-3/28, you will get free shipping  so be sure to order your spirit wear now!  The site link is below, I am also adding it to the right side bar so you can go on anytime (even past this sale) and order Arno wear.
March is Reading Month continues…
Wear a Word Day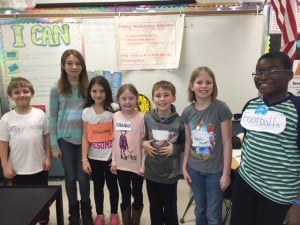 Although March is winding down this week, we still have some great things going on at Arno!
School-wide DEAR: (Drop Everything and Read) Students will read every Tuesday and Thursday morning in their classrooms.
Book Commercials: Different books commercials will be presented during morning announcements.
"Caught Reading" Bulletin: Students will try to "get caught reading" at home and/or school and have their photograph taken and displayed in the hall.
Teacher Reading Swap: Teachers will read to different classrooms.
Culminating Read-a-Thon: Monday, March 21st. As a celebration to end MIRM, kids can wear their pajamas and bring in their favorite books/magazines. –
Author Visit: Paul Orshoski – March 24th
May the Force Be With You!
March Guest Readers