Important Message About Spinners Below
Coming soon to Arno…
May 15
3rd Grade M-STEP ELA
May 16
No events
May 17
3rd Grade M-STEP Math
May 18
Middle School Orientation Gym 9:00
4/5th grade concert 7:00
May 19
Kids Hope Year End Party 2:00
FIDGET TOYS
Many of our classrooms have fidget "toys" available for students who need them to maintain focus on work while expending energy in a quiet, personal way.  However, we have seen many fidget toys coming to school with students from home.  These fidget toys, designed to improve attention, are actually becoming a major distraction for our students at all levels.  Student attention is actually ON the fidget toys, rather than the lesson.  For this reason, we are asking that all fidget toys be left at home from this point forward.  If your child needs a fidget to do his or her best work at school, it will be provided by the teacher.  Thank you in advance for your support and understanding.

From the PTA
Happy Mother's Day to all the Mother's out there! We appreciate all that you do! Lets hope this weekend will bring us some beautiful weather along with all the beautiful mom's we will be celebrating.
We are currently looking for team members and chairs for our Fall Events: Welcome Back, Fun Run, and Reflections. If you're willing to lead one of these events, please contact us.
Our STEAM Museum is coming to Arno and we still need a few volunteers to help make it a success! If you would like to see what this event is all about, please consider volunteering! Link is available below and on our Facebook page.
Have a great weekend! Please check our Facebook Page for updates (Arno Elementary PTA).
Here is the sign up genius link:
http://www.signupgenius.com/go/30e0e4bacad22a4fd0-steam
Color
Run
2017 Info and Signup Genius for volunteers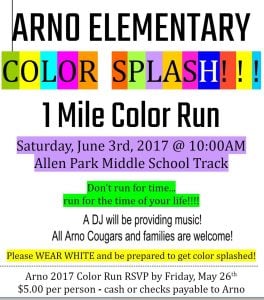 The Color Run/Walk is an end of the year event for Arno families geared towards being healthy and having fun.  It will be held at the Middle School Track on Saturday, June 3rd starting at 10:00 am.  We are seeking volunteers for this event.  Volunteers will be expected to be there 30 minutes prior to the event at 9:30 am.  If you are interested in volunteering, please sign up and we will see you Saturday morning.  Current Arno students may not be volunteers.
Children must be accompanied by an adult and families will be running in heats that are predetermined.  Heat times will be communicated to families the week before the run.  Participants should come to the event wearing white and Eco-friendly colored corn starch will be thrown on runners/walkers as they move around the track.
The Jungle Book
Invitation to Participate in Strategic Planning
Mars Rover Challenge wraps up in 5th grade
As you can see form the photos below, the students have had so much fun and learned much about engineering from our guests from Bosch.  The winners in there competition will have their names on a plaque sent to Mr. Creutz for accuracy and distance.  Way to go  5th grade!
TEACHER REQUEST PROCEDURE
As we close one school year and begin to plan for the next, student placement is one of our primary considerations.  Our school team of teachers, administrator and social worker spend many hours working together to form classrooms for next year.  We strive to balance classrooms with a blend of students based on academic strengths and needs, social and emotional supports, and the unique personalities of each child.
If you have any special concerns about your child's placement for next school year, please submit a written explanation of the concern.  For example, "my son is very active and needs to be placed in a classroom where he will have opportunities to move around" or "my daughter struggles with reading and needs a teacher with a strong background in reading".
We do not/cannot accept any requests for a specific teacher.  Letters requesting a specific teacher will be returned.  The one exception is a request for your child to not be placed in a specific classroom based on previous first-hand experience you've had with a teacher.  And, that parent concern / issue should be documented in the office.  All such letters are due to the office no later than Friday, May 19, 2017.
This is the same procedure that has been used in previous years and is the same procedure used at Lindemann and Bennie.  If you have any questions or concerns about this process, please feel free to contact my office.
Steve Zielinski, Principal
M-STEP Update
This week, our 4th graders completed their M-STEP testing in Math and Science.  No matter the scores, we are so very proud of all our students and their efforts- as well as all of the hard work our teachers everyday to get kids ready for this!  Third grade has two testing sessions next week with ELA on Monday, and Math coming up on Wednesday.

APPS LIMITED SCHOOLS OF CHOICE PROGRAM for 2017-18
The Allen Park Public School District has established a successful Schools of Choice Program for the past several years and the Board of Education has approved continuation of the program for the 2017-18 school year for Kindergarten through 8th Grade.  (Requests for specific elementary schools cannot be guaranteed)
Applications are available beginning Monday, April 10 at the Riley Education Center, 9601 Vine.  Completed applications will be accepted beginningTuesday, May 2 through Monday, May 22, 2017 from 7:30 a.m. until 4:00 p.m. weekdays in the Pupil Accounting Office at the Riley Education Center.  Completed applications must be presented in person to ensure that all information is complete.  A random draw selection will be held on June 1 at 9:00 a.m. at the Riley Education Center.  The draw will determine numerical selection for acceptance of candidates.
We ask that you help us by sharing this information with friends and/or family members who may be interested in having their children become a part of the Allen Park Public Schools Family.
For more information about the Schools of Choice Program, please see the attached FAQ's, visit our website at apps.k12.mi.us or call (313) 827-2105.

PRESCHOOL INFORMATION
If you have a child who will be 3 years old by September 1st, 2017 or a 4 year old child, consider enrolling them in our Preschool Program.
Registration will begin for in-district residents on Friday, April 21st, 2017 at 7:30 AM at the Riley Education Center, 14700 Moore. Out-of-district residents may begin registering Friday, April 28th, 2017 at 7:30 AM.
Our office hours for registrations are 7:30 AM – 3:45 PM, Monday through Friday.
NO REGISTRATION WILL TAKE PLACE DURING OPEN HOUSE 
For further information, contact Kristy Caleca in the Preschool Office at 313-827-2662 or caleca@appublicschools.com