Smencils are on Sale at Arno!
Coming soon to Arno…
Oct. 14
Mad Science Assembly 9:00
Oct. 15
No events
Oct. 16
Restaurant Night- BUffalo Wild Wings
Oct. 17
No events
Oct. 18
2nd Grade to Cranbrook
Oct. 21
K-2- Fire Department assembly 9:00
Oct. 22
Hearing tests
Oct. 23
Hearing tests
Building up to Kindergarten (Preschool) 4:30
Oct. 24
Hearing Tests
Membership Drive ends
Halloween Skating Party
Oct. 25
No events

Oct. 28
Mobile Dentist at Arno
Oct. 29
Membership Classroom winners party
Metro Parks 3rd Grade
Oct. 30
No events
Oct. 31
Halloween Parade 10:00
EARLY Dismissal 11:30
Nov. 1
PBIS Reward
Nov. 2
PTSA Holiday Fever/Craft Show

ARNO VISION
ARNO ELEMENTARY WILL PROVIDE A SYSTEM OF SUPPORT TO EMPOWER
AND INSPIRE STUDENTS TO BECOME COLLABORATIVE LEARNERS
THAT STRIVE FOR ACADEMIC EXCELLENCE
Traffic
Pattern
Parking/Drop-off
As we all need to get our children to school, safety is always the
primary concern

.    We will do our best to help ensure an orderly drop-off/pick-up daily, but we need your help in making that happen.
** No child should run across the street to get into a car, or out.
**Help our traffic issues around school by parking a block or so away and WALKING your child before and after school.
**School traffic flow MUST go clockwise around the school. Make sure that your passenger door is ALWAYS closest to the curb.
**We now have some volunteers for the dropoff/pickup, but we need more.  Please contact the office if you can help out!
BE SMART! BE PATIENT! BE CARING! BE KIND!!! BE RESPONSIBLE!!
EXCITING NEWS
Wahoo!  Introducing Arno Elementary's first Facebook page! "LIKE" us to see lots of great updates and photos from school!  This format is much easier to share photos in real time, so the blog photo gallery will now be coming to you in the form of Facebook posts!  Thank you for promoting this social media platform as a positive way to share the good news and great things happening at Arno!
HERE IS THE LINK!  
https://www.facebook.com/arnoelementary/
**I have learned that there is an Arno Elementary Facebook page out there with pictures- this is NOT an official school page- The real Arno Facebook page is titled "Arno Caring Cougars".  Please check the page to make sure it has current photos before you "LIKE" it- The most recent post is on a lesson from Mrs. Byrne. 
So what's happening with the blog?  
The blog, after a post on Oct. 11, will then only be updated once monthly on the first Friday of every month.  It will still contain a calendar and other news, but will no longer contain pictures- those will be on the Facebook page.  
Of course, as always, if you have a concern or question, please contact me directly by email or by calling our office.  I am here to help you in any way you need.
Ohhh, that's Scary

– Halloween Skating

Garden Club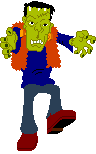 Halloween
Parade
Time to get those costumes on the kids and come on down to Arno on Oct. 31 at 10:00 for our annual Halloween Parade.  Our route will take us out of the 5th grade doors that morning, making a loop on the inside perimeter of the playground.  Please join us around the outside perimeter of the playground for the best seats.  It is a district PD day with an 11:30 dismissal that morning.
Free NHS  Tutoring is Back!


Help! Volunteers needed for the classroom!
Arno parents are encouraged to sign up and become involved in our Cougar day!  Volunteers are such an important part of being partners for your child's education.  If you have not had the chance yet, the volunteer form from Meet the Teacher is below
Drop off for student items
Please remember to drop off any lunches, folder, homework, etc in the cabinet that is outside of the main doors (Be sure to put a sticky note on with their information).  The secretary will then go get all of the items in there and be sure to get it to your child.  This helps to keep the office clear which helps everything run smoother.   Thank you for your help!


VOLUNTEER

BACKGROUND

CHECKS
In order to protect the safety of all of our students, any family member who plans to regularly volunteer in the classroom, or chaperone a field trip must complete the background check information below.  This paperwork is also available in our Arno office.  Unless you are planning to begin as a regular volunteer, or chaperone a field trip within the next month, please refrain from completing this paperwork in advance.  It is most effective if the requests are processed within a few weeks of the intended volunteer experience.  Thank you in advance for your cooperation!  Volunteer-Background-Check-Authorization-Form-2-2f9d6ta-1unseow-27li2bf  ICHAT-Volunteer-Letter-2-1wr1z3p-zjrwpf-1esyvyz

PBIS
Smencils for Sale
Smencils will be sold

on Tuesday

 afternoons at 2:30p.  The proceeds from Smencils benefits the PBIS program at Arno.  With the funds, we are able to have great monthly incentives such as pizza lunches for Super Cougars and Zumba.  The prices for items are as follows:
Smencils: $1
Smens: $2
Smencils Pouches: $8
Happy Smelling!
From

the District
AP Rotary Club – Blaze Pizza Fundraiser
Enjoy yourself and support the AP Rotary by dining at Blaze Pizza on Wednesday, October 9 from 5:00-8:00 pm.  Proceeds will benefit the literacy programs in the APPS elementary schools and help fund improvements to Milward Rotary Park.  (Flyer attached)
Blood Drive – AP KNIGHTS OF COLUMBUS
October 9 – 1:00-6:45 p.m. at Crystal Park Banquet Hall
Swim Lessons & Aqua Tots Fall Lessons
Thru AP Community Services (flyer attached) 
Walk to Fight Suicide
The Downriver Out of the Darkness Walk to fight suicide is Sunday, October 13 at Lake Erie Metropark, Brownstown – details attached.
https://afsp.donordrive.com/index.cfm?fuseaction=donorDrive.event&eventID=6193
Free Underage Drinking Presentation
On Thursday, October 24th the Stop Underage Drinking/Drugs (SUDDs) Coalition will be hosting an event titled "Underage Drinking:When it Stops Being Fun".
This event is for parents, students, and anyone else concerned about alcohol misuse among youth. The Coalition will have several professionals in law enforcement, the health field, recovery, and prevention covering this topic.
The event is free and open to all members of the public. The Coalition is inviting all students, parents, caretakers, and staff to attend.
Event: Underage Drinking Town Hall
Date: Thursday, October 24th
Time: 6:30pm-8:30pm
Location: 16703 Fort St. Southgate, MI 48195
To register, please visit https://www.eventbrite.com/e/underage-drinking-when-it-stops-being-fun-tickets-71527160663
Trunk or Treat!
Sunday, October 27 – 4:00-6:00 p.m.
APHS Parking Lot
Donation admission – Games & Raffles – Car Contest!
Need Child Care on Half-Days of School?
Correct dates/updated
flyer attached – thru APPS Latchkey Program
SUDDs Underage Drinking_10.24.19
Save the date!  Holiday Fever is Saturday, November 2nd, from 9:00 AM to 3:00 PM at Allen Park High School!
You can support this Allen Park PTA/PTSA Council scholarship fundraiser by
Last year we awarded $15,500 in scholarships to APHS and APCS graduating seniors.
Thanks for your support and hope to see you there!
Contact: Sandy Winkler (sandy.winkler@gmail.com), Allen Park PTA/PTSA Council